In a previous thread about the availability of the HDZ Upgrade, I commented that the crisp pile of carefully saved "mad money" I had set aside for the out-of-stock HDZ had been diverted to a Bridge City Tools JointMaker Pro that was on sale at one of the lowest prices I'd seen in a while.
Some folks asked for updates–here is the first one, which is fairly modest. I haven't made anything with it yet, but I've put it through some paces.
A problem I am sure is unique to me is finding space in the garage/shop to put a tool with a footprint like the JMP. I did not buy the stand that they sell–I figured if I needed it, I could get it later. One thing the JMP definitely needs is a fairly solid base, since pushing the table and the workpiece back and forth over the blade will make the unit slip and slide all around if you don't secure it.
I jury-rigged it to my workbench with some squeeze clamps and piece of plywood supporting it. It worked well enough to test it and get a feel for it–yes, we're talking squiggle wood here–but this clearly wasn't a permanent home. In fact, the main reason this would not work is that one of the things that the JMP does very well is dovetails–but you do need some space on the bench to cleanly chisel out the waste. Space currently occupied my the JMP 2.
Looking around, I had a table that was about the right size that was holding a bin of pieces of wood that were just a little bit too good to be considered scrap and that I was pretty sure I was going to use. Someday.
But the table was the perfect size, so I moved the bin off the table and set up the JMP–it was looking good. But the legs and base of the table were too wiggly and needed beefing up. This is where having a bunch of scrap lying around actually did come in handy. Beefed up and braced the legs, and put in on a platform that I wanted to set on wheels.
Headed to Rockler, they had a nice set of 3" casters on sale, 2 locking 2 swivel. They also had a beautiful piece of African Padauk for $20, so what the hell.
Here it is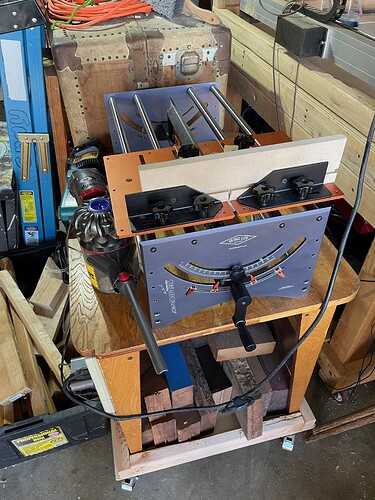 Now I it was time to do some serious winnowing of the scrap wood pile–which was soul-cleansing. And it did provide a basis for the Great Scrap Wood Fire of 2021.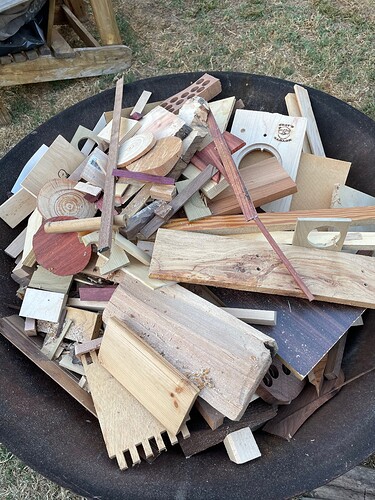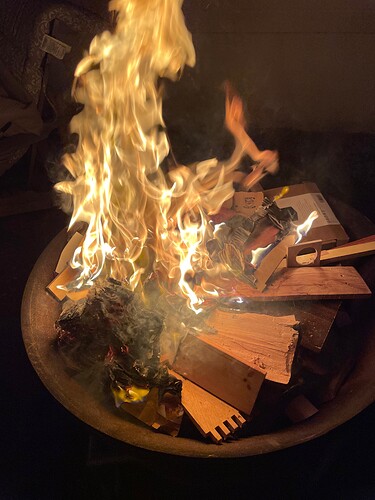 And as I organized the remaining pieces of good wood, to which I was adding this beautiful piece of African Padauk… which I place right next to a piece of walnut, maple, and… a nearly identical piece of African Padauk that I already had.