This current probe is accurate to 20kHz, but likely usable well beyond that for relative measurements (with and without the series inductors?) Do you know what the ODrive PWM frequency is?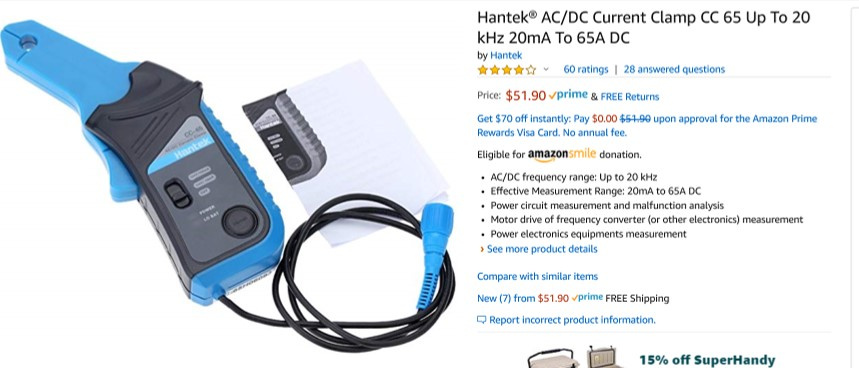 That's close enough to 20kHz that the current probe should be plenty accurate. With one of them connected to your scope, you should be able to easily see any 24kHz ripple component riding on top of motor winding commutation current. If you have one of those scopes that can do spectral analysis, you could also easily measure the difference in their magnitudes.
Quick off semi-topic question. I have one of the last belt drive Z access systems sold. I want to upgrade to either the Z-Plus or HDZ. Not sure which. Considering the experimentation I am doing with the Modkita and the desire to see how far I can go with that I am heavily leaning toward the HDZ. That said, I do not see myself milling aluminum in the near future as I live in an apartment (going to be buying a house in the next year) and do not want to piss off my neighbors. Also I have spent quite a bit more money on the Shapeoko than I originally planned so I am not sure I can justify the cost of the HDZ. Thoughts?
Check out this recent thread: Difference HDZ/ Z-Plus
Lots of opinions there on that matter to help you decide.
As someone in precisely this position, it's troublesome but doable. The main thing is that you'll need to build an enclosure. For the Nomad this isn't too bad but for the Shapeoko I imagine space and weight could make it an issue.
I have one. It is in my bedroom and takes up quite a bit of room. lol
@CthulhuLabs I have a 3040 cnc on order, and wanted your opinion on spindle given I have a vesc from an old skateboard project. 400w brushless china spindle or modkita? Goal is aluminum and minimal noise.
Can you link to the brushless spindle?
Pretty sure the Modkita would have more torque. It definitely has a higher RPM range. The ER11 collet would be nice though and might have less runout.
Need the speed (reduces forces), not the torque (increases forces).
I'm hoping you guys land on a brushless option I can comprehend and replicate, bonus w/ a 3/8 collet, and/or that the new Nomad coming out has a Z w/ a bolt pattern compatible with the shapeoko spindle brackets so that for those of us who want a nomad primarily for aluminum & brass projects, it's not a major month-long electrical engineering project to make it capable. It's such a tight, stout little machine, could even pop a couple threaded stays on it to triangulate the vertical X structure to square & really secure any flex out of it.
Maybe, with the heavier loads, we should stick linear bearings & ballscrews under the Y bed & off the backboard for the X too, I rather than the rods supported only at their ends. …if they'd even fit… I wouldn't want to just build a machine from the ground up, but by the time I think about the obvious mods I'd make to the nomad, I'd be halfway here.
There has been talk of @Vince.Fab making a bolt-on kit for the Nomad I think?
I think I'm going to try it though. I'll just go with ballscrews for now I think and only put linear rails on the Z-axis.
I think linear rails for the X and Y axes would work but I think you'd want to add some more material, not just use the backboard. The backboard is only ~6mm thick and has to replace some of the rigidity of the 20mm steel rods.
I'm really conflicted about the Nomad 3 though. On the one hand, it'll be great that it exists but on the other hand it really sucks that there's no upgrade path.
I have but don't think it's much help in this case. I don't think fiddling with the lead nuts is going to be enough for me.
Here's what @Vince.Fab's Modkita should be able to do assuming that I didn't screw anything up and the info that I have from him (max. current = 51.32A) and @CthulhuLabs (Kv=1600) is correct. Note the advantages of high speeds and large endmills (since power is proportional to MRR).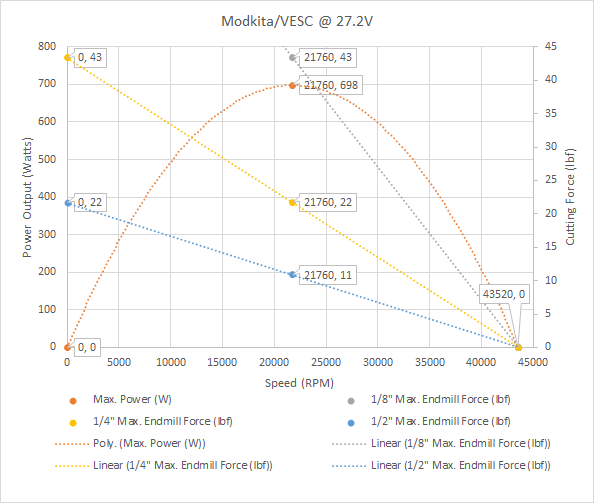 Looks like we need a bigger turbine housing with that curve. 36 volts or melt? @gmack
My ModKita is going back together soon, apologizes for being absent. Got a dream job and picked up a few more hobby cnc machines. Also I owe you a beer sometime, the workbook is gold!
Thanks - I'd really like to get that Modkita router model right (I'm starting to think that my current model is quite overly optimistic). Any data you (and/or @CthulhuLabs) can provide would help with that (PM works for me). It's seems unlikely that you can really push it to those (36V) speeds though.