So I followed the formula Drawn distance / Measured distance x 40 = New step mm.
I made 3 holes in a right triangle formation, 8mm diameter
Holes: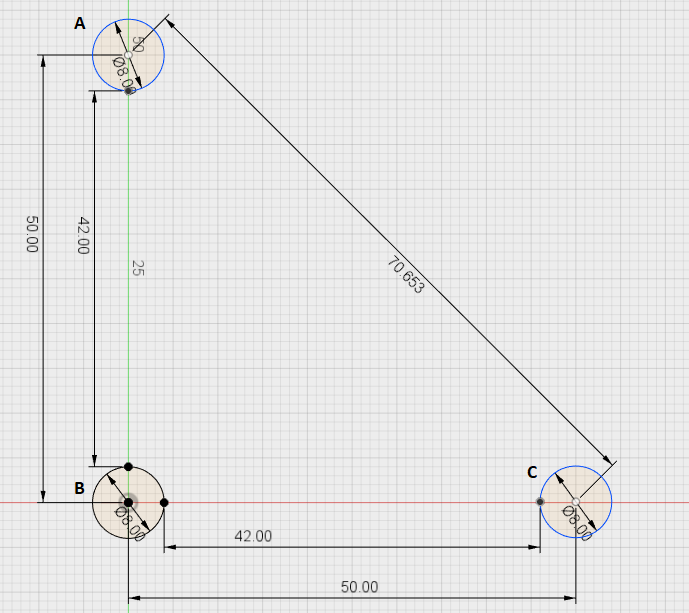 (Bot/-Y)
For holes A to B, the eye to eye distance was 50mm, but I measured the 2 closest edges between A and B (42mm) I was getting 42.30mm when it was suppose to be 42mm length. The holes were 8mm diameter, 4mm deep.
so 42/ 42.3 = 0.9929078014184397 x 40 = 39.71631205673759/mm
$101=39.71631205673759
Did this for Y ($101) as well. B and C (X- $100)
After doing this, I noticed the The A-B distance was 42.01 , but the B-C distance was still off but that wasn't the most peculiar thing…the weird thing was as I was pocketing the holes (4mm depth) it ended up going super slow, almost like it was stuttering, like someone was pressing play and pause rapidly. I was cutting stuff earlier and it was fine didn't' do this, after i entered a new $100/101 value…it started doing this.
What did I mess up?
is the distance for AB = Y, and BC = X or am I wrong?
Does it matter if I use mm measurements?
I couldn't figure out the command or how to see what the current step/mm is… like what is $100, $101, $102. When I clicked on log , it was blank, and a number counter kept climbing up but no information was being displayed. Is it suppose to que up or when I hit log, it should be instant? When I tried to input MDI, $$ nothing happened.
what is the command to reset to default settings, should Ctrl + X work? or how do i reset the x/y step/mm to factory. (or is it just as easy as $100=40)
GRBL: v 0.9 ( I think…)
Shapeoko 3 XXL ( I bought this 4 weeks ago)
Bit:
5/16 4 flute end mill
DOC: 3mm
Step: 3mm
Feed: 1000mm
Plunge: 300mm
Material: MDF (I will retest on a sturdier material tonight)
Thanks in advanced, I got about 4 hrs before i'm off work, then i'll be at it all night trying to dial this machine in.