Hello.
I´m experiencing problems with installation and running Carbide motion on a computer i want to use in my workshop. CC installs fine and are running. When i tried to install CM i first got the message that there was a .dll missing but this went away when installing CC. Now CM tries to start but at 26% progress i get this message: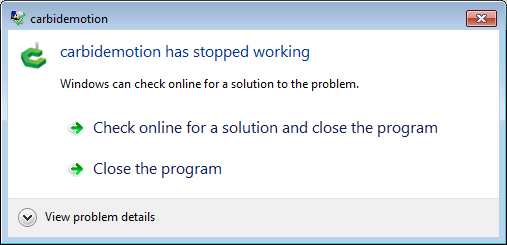 And the detail in the errormessage:
Problem signature:
Problem Event Name: BEX
Application Name: carbidemotion.exe
Application Version: 0.0.0.0
Application Timestamp: 5cae0d4a
Fault Module Name: StackHash_0a9e
Fault Module Version: 0.0.0.0
Fault Module Timestamp: 00000000
Exception Offset: 00000000
Exception Code: c0000005
Exception Data: 00000008
OS Version: 6.1.7601.2.1.0.768.3
Locale ID: 1044
Additional Information 1: 0a9e
Additional Information 2: 0a9e372d3b4ad19135b953a78882e789
Additional Information 3: 0a9e
Additional Information 4: 0a9e372d3b4ad19135b953a78882e789
Read our privacy statement online:
http://go.microsoft.com/fwlink/?linkid=104288&clcid=0x0409
If the online privacy statement is not available, please read our privacy statement offline:
C:\windows\system32\en-US\erofflps.txt
I have tried to reinstall both CC and CM and also different C++ redistrobutions without luck. Can some please help me?
Best regards.
Edit:
Running win 7 on a asus Eee box PC