Hi folks,
I am currently looking for my first CNC, and the Shapeoko is very strongly in the running. I am a hobbyist 'traditional' woodworker (i.e. non computerized stuff). In addition to doing inlays and such with the CNC, I would like to use it for some joinery.
To do this, I would often need to mount the piece vertically and mill the end grain. I have a front vise mounted on my workbench already, that I would want to use with the Shapeoko: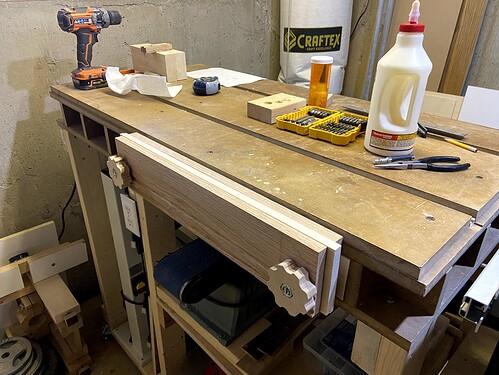 I think I have read somewhere that the Shapeoko will reach a couple inches past the front of the wasteboard. This would allow me to mount stock in my vise, move the front of the Shapeoko to the edge of the stock, and cut (e.g.) dovetails.
I would like to confirm the following from someone 'in the know':
Does the current Shapeoko have this ability? If so, is it just a certain size, or can all three do it? (If it matters, I am planning on either the Standard or the XL; my shop size does not allow for XXL).
Will the Shapeoko 4 also have this ability? (This may be a question for the official Carbide3D folks).
How far out can this reach? 1/2"? 1"? etc.
Thanks for any information you can provide!
Cheers