ALL HAIL ROUNDED CORNERS!!! Great work everybody!
SO TRUE, after a year of trying I was able to put round corners (Fillets) to a 2.625" square. Praise the Lord! (and I'm not religious).
Nice!
Does Carbide document the build revisions anywhere?
I've had some frustrations with cut and paste in my wasteboard adventure…
Odd the new CC is build 289? Isn't that the same as build number 289 from last year?
http://carbide3d.com/blog/2016/carbide-create-289/
Download links have no rev numbers, but the rev date has changed and there's obviously some cool new features. Long live the rounded corner!
Dan
I was thinking the same thing, 289 has been around for a while (11/29/16), so yes it is perhaps an error (new version with the same number)…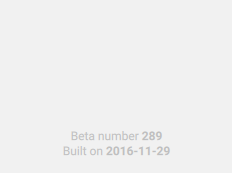 I'm glad I actually looked it up, I thought somehow the new probe mixed with your cool watch project had somehow broken the Time/Space Continuum,… or I skipped my meds this morning, it happens, haha!!!
Dan