Carbide Create Live is all about our machines and furthering your design process.
Join us for Episode 2 on Sept. 2nd.
Our goal is to help you improve your skills and continue to have success with your machine. Every episode includes a "Discussion Topic", a "How To" and an "Interactive" section.
Q+A Throughout. This is an interactive forum designed to facilitate learning and provoke you to take on new projects.
Episode 2
Discussion: Making Better Files: Use of Layers / Naming of Toolpaths / Ordering Toolpaths - Creating order out of chaos inside your files to improve performance, machinability and your creative process.
How To: Rest Machining: New to Create 7 - Rest Machining saves you time with your parts. How to and When to use this new feature.
Interactive: Create Quickfire Challenge 2: Your ideas come to life on the show. Some insight into how I attack design challenges. What tool paths / What tools and WHY. All on the fly.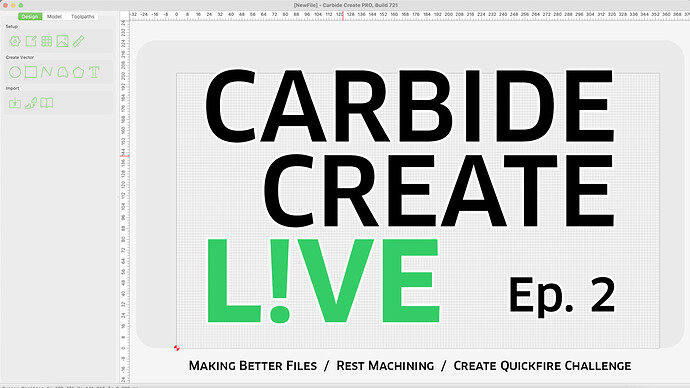 Mark your Calendars and Join the Zoom Here:
Kevin Barnett is inviting you to a scheduled Zoom meeting.
Topic: Carbide Create Live - Ep. 2
Time: Sep 2, 2022 01:30 PM Los Angeles
Join Zoom Meeting: Sept. 2nd - 1:30pm Pacific Time
Meeting ID: 896 8982 4855
Passcode: 436675
Find your local number: Zoom International Dial-in Numbers - Zoom