Lets talk about the teased Carbide3D Spindle Kit. I'm pretty sure I don't "need" it, but will admit that I "want" it. So I've been looking at Carbide3D's picture of the spindle on their HDM…


… it is taller than the standard router, and I am assuming that it can be positioned/clamped higher or lower (in the HDZ) depending on your available height and/or bit-clearance needs.
Here is my current setup, positioned at the top of the Z range. From the top of the current Carbide 3D router I've got roughly 7 inches of clearance before hitting my dust collection port/hose.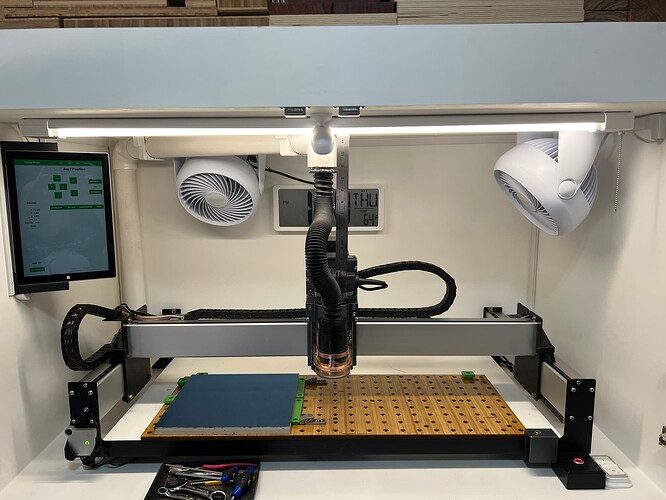 I'm assuming the other end of all the hoses and wires coming from the Carbide 3D Spindle kit is a water pump and a break-out box for the spindle electronics. I would want to mount this in my lower chamber (along with all the other electronics) but I don't know if there is a length limit on the water hose. Really want to know what other people have done.
Seeking Advice:
Do you think the Carbide 3D Spindle kit would fit in my enclosure without modifying my current dust collection setup?
What's your guess at the price range for the Carbide 3D Spindle kit?
Is the Carbide 3D Spindle a 65mm mount? I have the older style HDZ mount, don't know if I would need the newer design and/or the 80mm mount.
I'm guessing this spindle is brushless, what are the (yearly?) maintenance items as compared to the stock router?