So the guy who hates wood is making an heirloom circa 1800 modified (one-sided) Partner Desk (John Goddard Designer). I've had many people asking how do I do the 4-sided, 3-tiled programming/machining on the legs, so here are (I hope) all your answers.
Timeframe:
Research 2 months (Complete)
Leg Model/test: 2 months (Complete)
Leg Machining/final: 3-4 weeks
Remaining desk machining: 6-9 months
Cost: Wood/hardware: $1000 (est)
Programing/Machining. How: In Fusion I create 4 different Setups (on each Square Block/ centered on the dowel hole) (the middle block will be removed during the 3rd tile move, and the end blocks manually removed via a miter saw).
While not a difficult project, it's also not a for the novice. Strict bookkeeping must be maintained due to 32 difficult programs. A good program loaded in the wrong position will scrap the leg. I still need to write the various programs for the 6 Mortices on the leg top. The other photos should answer most of your questions. Let me know if I've left anything out.
.
.
The Setup. The cap screw head is being used as a locating dowel pin, and the 123 block (in the back) aligns the leg 90º to my table.
.

.
Finish leg (as modeled in Fusion (Missing the 6 Mortices, which I will design and program while the legs are machining)
Material: African Mahogany.
Cost: $50 per leg (No I didn't buy any extra material!)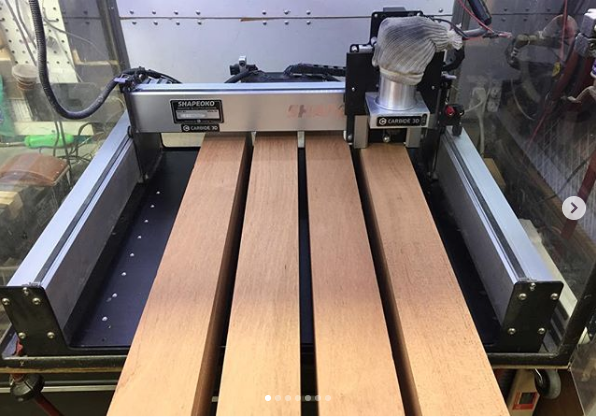 Six Mortices

Test Leg (Pine/Fir) (Without the upper portion)

.
Philly Inspired Partner Desk (There are NO photos of a Newport inspired Desk) Differences are subtle.