The Problem:
Wood chips/dust stuck in the cut. Really stuck, like cement.
Technical (Please ask if you need more detail):
Running a DeWalt router on a Shapeoko XXL. Using .25" Spektra 2-flute compression endmill. Homemade dust boot. Feeds/speeds roughly derived from G-Wizard. Most all cuts are full bit-width cuts. Cutting 3/4" Birch plywood from Vietnam 11-13 layers.
Context:
I cut 3/4" plywood all the time. Almost exclusively. Many species. But this is my first go with this wood. During first cuts, the chips/dust collected in the slot. I know from experience why this is bad (bit heat/wear and possible redirection of cut). So, I adjusted feeds/speeds to generate larger chips. They're bigger with no side effects, but chips still stuck. More adjustments may be necessary.
Then, I focused on dust collection. Since it was on my to-do list, I remade my DIY dust boot to be more efficient. Was successful at clearing chips during pass 1 of 3. Here was the result in case you're interested. It works well on all other projects.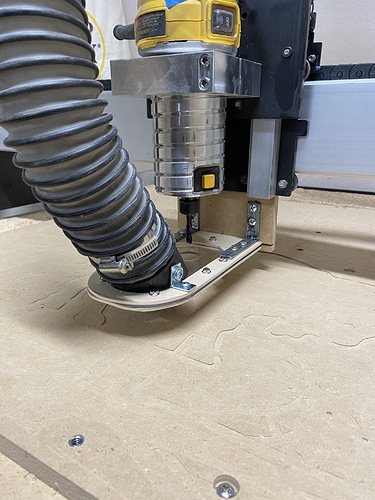 Since the problem persisted, I decided to eliminate the dust boot and jump right to holding the vac hose over the slots during the cut. Mild success. Like I said, cement. In many places, the debris only comes out when first jabbed with something. I suspect the few middle layers are forms of MDF. That stuff gets obliterated into micro particles when cut. That could pack in tight and cause the problem, but I don't know how to verify.
Request:
Please respond if you've resolved this issue before or can help me troubleshoot. I use this machine to make products. I do NOT have time to babysit every cut. And for anyone wondering why I'm bothering to make this work when there are other ply options, I have good reasons based on my needs, but don't want to waste others time with those details here. Thank you!