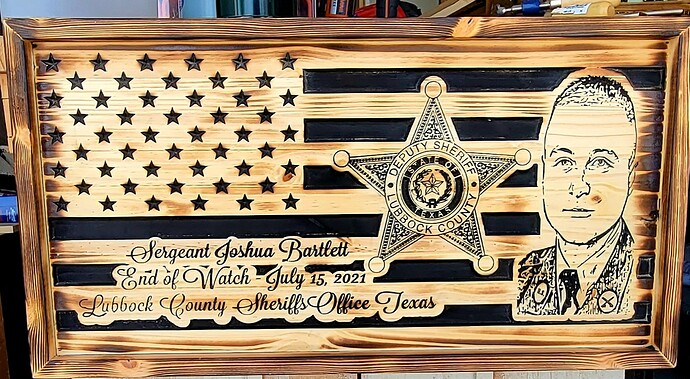 Sheriff deputy swat team leader I made this for his family on my shokepo3d
I've had my XXL for 2-1/2 years. During that time I've done small things, learning how it works and how to use the software. For almost a year it was disassembled while we moved into a new house and I set up my new shop.
The new house is on a river and my wife has named the place Riverwatch. She said she wanted a welcome sign to hang out front. Yes! I knew right away what I wanted to do.
I made a sketch to show her my idea and got project approval:
Next step was CAD layout. I recently got BricsCAD so this was the first real test. So far I do everything in 2D. I ended up with 5 programs:
1/4" endmill for material removal at 2 different depths .150 & .300
1/16 endmill for details at .150
1/16 endmill for details at .300
20 deg vee bit
1/4 endmill for final cut out with tabs
Here all all 5 2D layouts together: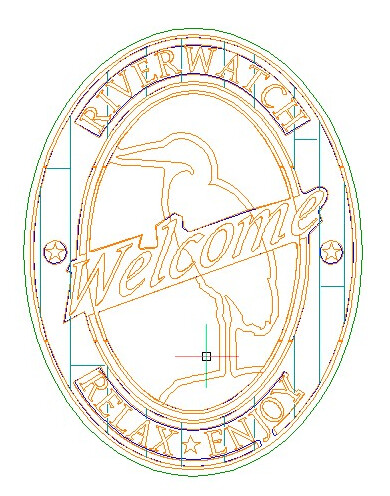 One of the reasons I chose BricsCAD was how well it handled raster images. The outline of the heron is traced off a photo that I took from our house: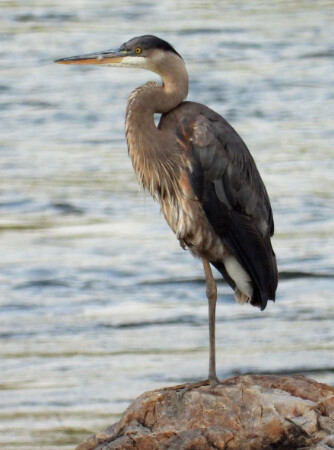 Having everything set, I went to Carbide Create V5 to make the programs only to find that it was a little more complicated than the software could handle. I ended having to split the first 1/16" detail program in to 3 sections so the software would recognize all the letters and pocket around them.
It took just under 6 hours to run all 5 programs. On the first run of the 1/16" detail program I was a little off on the Z setting so I made a quick fix program to take another .020 off. That fixed it. I was pleased with the results:
Then came several hours of sanding. Working around all the letters. Cleaning out the grooves that the 20 deg vee bit made. I left the outside area where the boards are rough and tried to get the inside as smooth as I could.
Next after reading a post about primer and since I wanted parts of it to be gray (and had a can of it), I applied 2 coats of Rustoleum gray primer:
Now came the hard part. I haven't painted since I was in college (40 some years ago) but I knew what i wanted so I went out and bought acrylic paints and brushes and started. After about 16 hours of painting (and re-painting):
Then as an afterthought I ordered a keyhole router bit so I could hang it.
Finally after a test of how well it worked on MDF, I gave it 5 coats of Rustoleum Painters Touch 2X Clear Matte. It's hanging on a covered porch, I think it will be OK.
My wife is happy and I got to do what I wanted so life is good.
Thanks for this info! Didn't know Inkscape had that function. I've spent many hours re-creating paths in fusion to be able to work with bought SVGs from makeCNC
I have been searching far and wide for ideas on the logo for my business. One day I decided to make a shape of Texas. This is where I landed: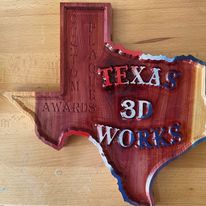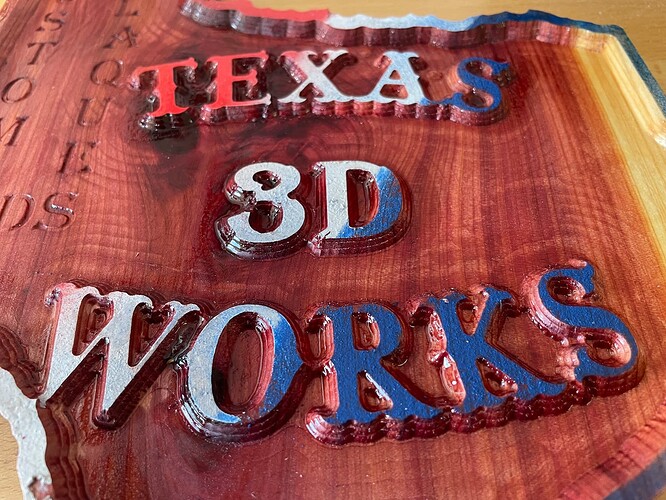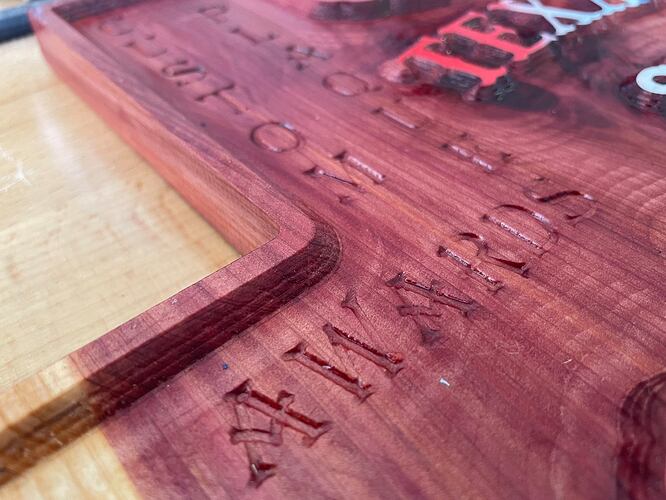 This is a sign I made for the in-law's new basement bar. Substrate is solid maple and the tool paths were all made in Carbide Create. It's an advanced V-Carve with then a textured tool path behind.
I stained the board first, then added 2 coats of spray shellac, applied Frisco Craft blue vinyl mask, and carved through it. Once off of the machine, I added some satin black spray paint, removed the masking and finished it off with 3 coats of Sherwin Williams T77F58 dull-rubbed pre-cat lacquer. This was a last-minute project, so I didn't snag any in-process photos.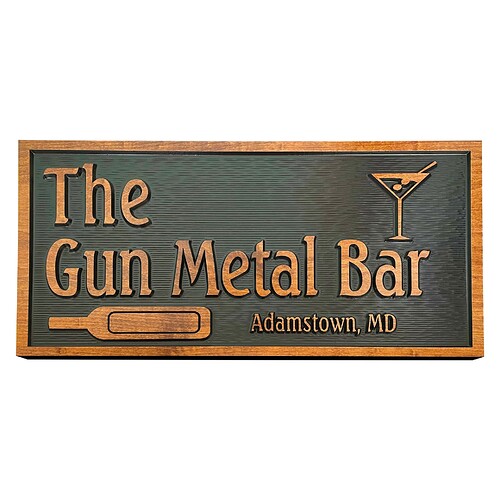 Wow, that's the actual sign? It looks so clean I thought it was a render

. Great work!
I just scrolled through this and as a newbie got super motivated and discouraged all at the same time. No way I will win this contest but excited to learn and get some inspiration.
The most complex project doesn't always win, but you should throw your hat into the ring anyways! The contests are always great to see new people enter, and this one is certainly a newbie friendly one!
I will definitely give it a go! There is no downside so why not.
YELLOW BELLE AVIATION

My buddy from college is a pilot who owns a Kitfox Series 6 airplane, so-named for its color (Yellow) and in memory of his mother (Belle), hence "Yellow Belle". Ironically, Belle hated the idea of flying in small airplanes.
Late last month, we flew the Yellow Belle 15 hours (1400 miles) from Phoenix, Arizona to Oshkosh, Wisconsin for the annual Oshkosh airshow. We were plane-camping at the airshow when this contest was announced. Seeing the silhouetted plane in the early morning, an idea for a sign was born. I had plenty of time to think about it during the long flight home. I made two signs – one for my buddy's hangar and one for his workshop/man cave.
Landing in Oshkosh

DESIGN NOTES
I imported a photo of the plane as a background and carefully traced it with the polyline and curve tools, tweaking the design until it was a good likeness of the real thing. This was by far the hardest part of the project.
The name on the plane uses the "Pacifico" font, so I used the same font for "Yellow Belle" on the sign. I used Courier Bold Oblique for "AVIATION" because it leans to the right and seems to convey a sense of forward motion.
CONSTRUCTION NOTES
The signs are made from ½" Baltic Birch Plywood, 30"x24". After sanding, I sprayed the blanks with a coat of shellac for two reasons: 1) it seals the wood and prevents paint from bleeding under the mask and 2) it allows the mask to be removed without peeling up wood fibers.
The boards were then masked with (cheap) Duck brand adhesive shelf paper and squeegeed down tight with a roller.
Spray the blank with Shellac…

Mask with Duck brand shelf paper…
Zero on the center and cut "Yellow Belle Aviation"…
Move the board (too tall for my XL to cut in one pass), re-zero and cut the plane…
Mask the black parts…
Spray a base coat of white (helps the yellow paint cover better)…
Spray the yellow…
Mask the yellow and spray the black…
Peel off the mask. This is the fun part!
Sign
#1
. Pinstripes, windows and "N" number are hand-painted.
Sign
#2
(no paint on the windows for a different look)
The corners were rounded with a disc sander. 2 coats of Polycrylic spray on both sides. Personalize the back and add hardware…
Yellow Belle Aviation.c2d (2.1 MB)
Is the $500 gizmo the HDZ Pro or a new product?
I'm pretty sure that if it were the HDZ or a variant of same, it would have been described as such, so presumably, it's something new — after all, @Luke has to do something to earn his keep.
There wouldn't be an NDA involved for an HDZ that only has a different mounting plate from current models. This is most likely a product that could be used on other machines and must have a decent size market to warrant such protection. They did just get burned by IP theft with their ER 11 router so I don't blame them for being cautious with new IP.
I want to sign the NDA just to know what it is even though I don't make signs. I keep hoping one of the contest will line up with my projects and have a prize I haven't already purchased.
It could be a VFD spindle or laser setup or a rotary axis. Time will tell those who win early and those who don't much much later.
No it isn't.
@Able is on the money there. I'd issue a NDA even if we were shipping out a new end mill

I just completed a sign for a local winery. The owner dropped two walnut boards off, both 1/2" x 11" x 84" and requested a sign be made. The boards were from the farm where the winery is being built. He never ask me if it were something I could even do! I have a Shapeoko 3 XXL. So I stole his jpeg logo off of his website and converted it to svg format. The letters converted fine but not the leprechaun ( it is an Irish-themed winery). So on the top board I was able to use the same font as they use on all their bottles and brochures, and the second I used the text function in Carbide Create and used Arial font. I calculated how to utilize my 33" cutting area on the machine to best fill a 7' long sign. I identified the halfway point on the boards, then counted the letters and spaces that would reach the halfway point. I then did another file, flipped/rotated the remaining letters, flipped the board on the cutting table and carved out the remaining letters and design. I first did an outline of the letters with a 1/8 inch bit. This would be filled with white epoxy. I then pocketed out the letters and shamrocks which would be filled with green epoxy. Once all the epoxy was dry, I ran the boards through a planer until all was smooth. The boards were then treated with Watco danish oil, then when dry coated with a good exterior polyurethane. They plan to hang it on a barn at the entry to the winery. Bothar in Irish means road: ' Meaning: Good Luck On Your Journey. As the word 'bóthar' in Irish means road and the verb 'éirigh' means to rise.'


Is there a significance to one letter (the d in End) having the counter highlighted in white, while the other letters w/ counters (o, e, B, ó, and a) not having a matching outline?
No significance. In creating the tool paths, the pocket was set to the wrong line and removed my inner 1/8" outline. With a project like this, you get one shot at it and being my first attempt at doing something outside of the normal Shapeoko box, it was definitely a learning experience!!
Ouch. Yeah, sometimes it's hard to judge that sort of thing from the 3D preview.
It's very nice though, and the letter differences give it an air of mystery
One of my family members owns a diner who asked me to make all 4 major Toronto sports team's logos. That included the Raptors, Toronto FC, the Blue Jays, and the Maple leafs. It was a difficult task considering I had my customer orders to fulfill every week. But I took it on regardless.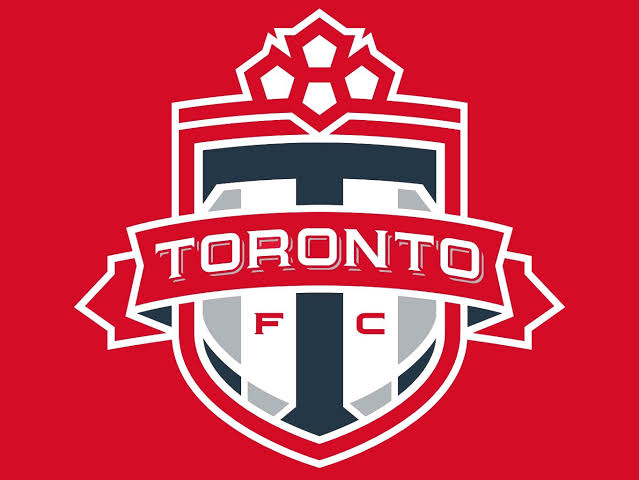 I started with the Raptors logo since that seemed like the easiest. I used 1/4" thick hardboard for all the pieces that would be glued on a 1/2" painted birch plywood base. Hardboard is like mdf, with a little more density. It's cheap here and seems to finish really well.

Once the base was painted black, I used the piece that I cutout all the lettering from as a template to glue all the pieces in the right place. It's not allowing me to post a video so uploading this "gif" format as a video of the process. Sorry for the bad quality.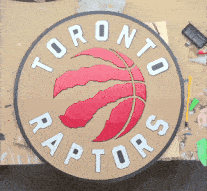 Then moved on to the Leafs logo. This was was cut entirely out of pvc since all the lettering and the border was white. PVC is my favorite material to cut since it requires minimal sanding and looks ultra white(also easily printable without primer)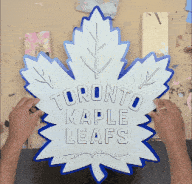 Blue Jays logo was next. Once again all parts but the base were cut out of pvc. This one took me more than an hour to glue.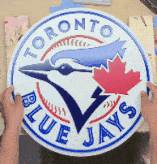 Last one was the TFC logo, I cut everything out of 1/2 mdf. Then used PVC for the lettering and shadow for the lettering. It had about 52 pieces to glue in total.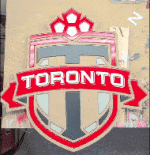 And that's it. It was challenging but rewarding. I can't wait to visit the diner to see them all displayed together. If you have read this far, I thank you for your time, and here are the final pics of this project.