Hi Folks!
I thought I share as I was looking for one and didn't see any post recommending any with this particular feature.
Mind you it's not cheap, but! While it won't clamp onto the 65mm body of the router/spindle it fits perfectly on lower diameter boss on the bottom of mine and it might work similarly on the C3D router just fine.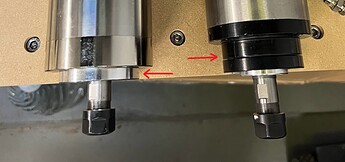 But the main point is that the arm can be separated from the clamp, then it presents a 1/4" shank which can be clamped in an ER11 collet to check for spindle tram. That is something very hard to find.