After I modified my dust shoe to put a cheap USB camera in there, I have developed a mild addiction to watching the cutters do their thing.
I figured I might as well create a thread to post videos I find interesting (or silly, or painful to watch when I have my settings all wrong!), I'll add them to this thread as I go.
Here's one from today: I have a (pretty boring) wood tray I need to make, nothing interesting in the design, but it requires cutting a 13" x 8" pocket, 0.6" deep, and I don't want this to take forever, so I went for a somewhat aggressive toolpath: a full depth adaptive clearing at 24000RPM, 3000mm/min (118ipm), and 1.5mm optimal load (stepover). That's in "Ikea acacia" wood (yep, another cutting board meets its end today).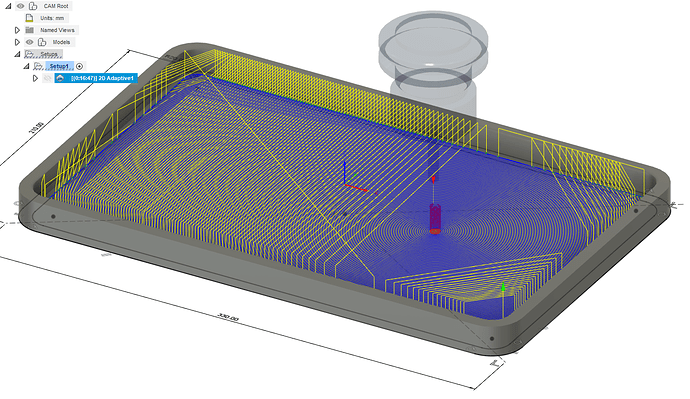 Fusion tells me it should take 17min, fine with me.
Anyway here's the video of a test cut at those settings:

What I found interesting is that it illustrates how important chip evacuation is when making deep/narrow cuts. Oh, and I still love adaptive toolpaths even for wood.