Hello all,
I have seen many posts online on people implementing an emergency stop button, by tapping into the controller, wiring to the PWM etc. Fact is that if you have Shapeoko or even a Pro you are either a hobbyist or a small business. My objective was simple, when things go wrong I needed to stop everything instantly. This means dust collector, machine, router, music etc. - all of it. I wanted to do it cheap (but still pretty). Also, I didn't want the emergency stop button on the machine like a lot of people have. Why? Because, my computer is on a desk 10 ft away and in the time I walk over the 10 ft, the router can do a lot of damage, therefore I needed a button right where the computer is. Also, a lot of people have two cords coming into the Emergency stop button, I wanted one cord to have a clean look. So here is my solution and it works. Total cost about $35. You can do even cheaper but I wanted 15 ft cord from the extension to the outlet and another 15 ft cord from the extension to the emergency stop button to give me reach (plus I wanted the pretty braided nylon cables). The switch was from Amazon and rest from Home Depot. Here is a picture of the setup.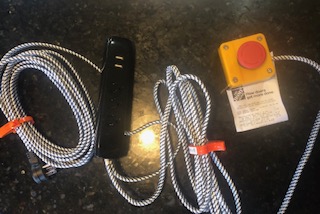 IMG_9856.jpg
Instructions. You just have to add the switch between the power (Hot wire - non-flared pin) to the extension strip and use the NC switch on the Push button.
Hope it helps anyone new to CNC world and is looking for an Emergency Stop button and has similar requirements.