A Thank You Shout Out to @CNCInspiration Max Berg
As I was browsing the Gallery a few months back searching for ideas for something I could make for my siblings, I saw this Executive Name Plate project by @CNCInspiration
Absolutely loved the design and finished product and sent a note out asking about licensing the files for personal use. Max was super responsive and provided countless hours of advice and assistance with the cut files. I'm not (or wasn't) a Fusion user, but this project got me right into the thick of it, which I couldn't have done in a timely manner without Max's help.
All of the wood cuts were done using a #201 .25" end mill except the pin holes used for flipping which were done with a #102 .125" end mill
The aluminum name plates were cut using a #278Z .25" single flute end mill. The feeds and speeds were set by Max, though I reviewed them carefully a simulation program before cutting, which is always a good idea.
Thanks to the toolpaths set by Max, there was very little sanding. Just a touch-up here and there with 220 and then a once-over on the complete piece with 320.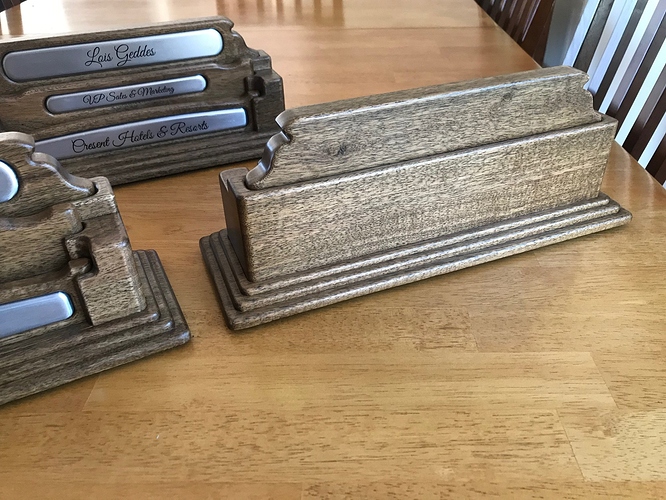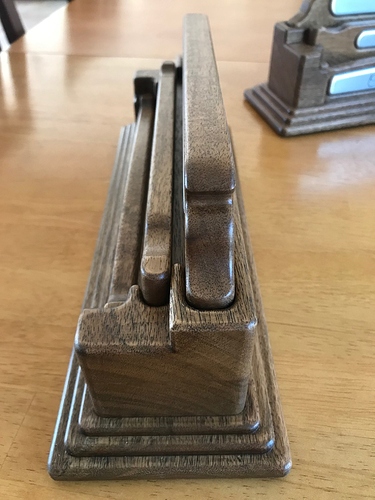 The gcode files for this project were very large and the version of Carbide Cut that I had installed at the time wouldn't handle them. Got that fixed eventually but I split some of the files as described in these boards but on one set ran into an arc endpoint error. Thanks also to @neilferreri for his efforts helping to resolve this error so I could finish the project.