Hi everyone,
This may not be quite a traditional Gallery post but I wanted to showcase something I've been working on. First off, thank you to @gmack and @Julien (and others!) for their incredible contributions to the two feeds and speeds calculators that I initially used. What I've created here is just trying to take the SFPF calculator that I believe was modified from the NYCCNC calculator and make a really nice to use web app. Taking it one step further, I offer (dumb) optimizations. Check out my short demo walking through the calculator:
Note: please make sure to set HD as your quality otherwise it may look really blurry.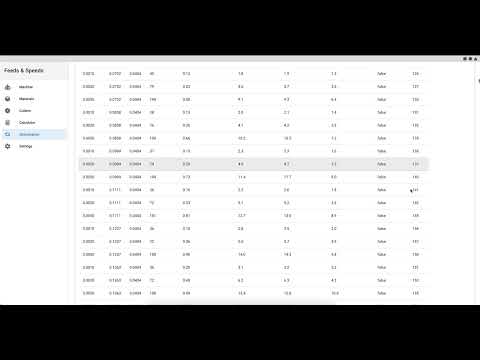 There are definitely still bugs, but what is super exciting about this calculator is the "Optimization" feature. What this does is it allows you to specify a range of chipload, woc, and doc along with a number for each and then it calculates feeds & and speeds for every combination of values, compares it against the constraints and sorts the highest material removal rate to the top. This is essentially equivalent to creating a manual spreadsheet hundreds or thousands of times and manually comparing the spreadsheets. Instead, you specify the constraints and you automatically can answer questions like "given the capacity of my machine, what is the DOC I should use given X material while doing slotting (i.e. 100% WOC engagement)". I actually wrote an identical optimization script in Python but found myself wanting something a bit more user friendly that didn't require running code directly. Hence the UI.
Would love any and all feedback based on the demo video! There is a lot of potential for enhanced calculations. One thing I've thought about adding is one of those graphs that shows force as the endmill rotates, similar to Millalyzer. I haven't quite found the need for that myself though. Also the calculator does not yet support spindles, but that would be pretty easy to change.
I haven't yet published the calculator to an actual website (running on localhost). I was considering Github Pages but it doesn't support SPA routers very well (need to look into this more). In any case, a big goal of this would be that we could have community contribution by creating materials and cutters in the tool that we could make be defaults. That way when someone new to Shapeoko / Nomad joins they can use the calculator to get a really good starting point for various scenarios. Not sure if that is too far fetched and people actually care about calculating feeds & speeds as much as I do. I know once you have them set you're pretty much good to go.