So, I was 3D-printing this model as a favor or someone at work (geez, people find out you have a 3DP and suddenly they all want something run off)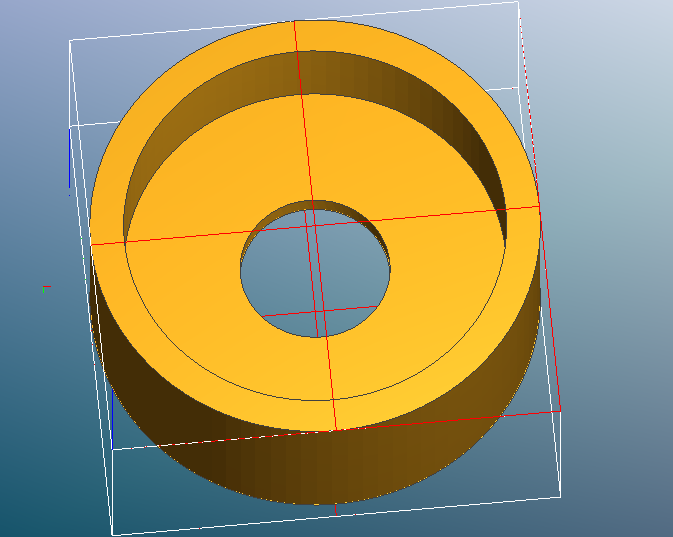 I had to print it inverted, because of some find detail on the bottom side that you can't see in this shot. But that meant I had to print with a lot of support material, due to that big unsupported overhand. So, when it was done, I had a print with a huge mass of support scaffolding that needed removing.
(why didn't I just cut this thing on my Nomad? Well, I actually did, in parallel, just for fun, but the print was one piece of a several-piece assembly with other parts that simply can't be cut by a 3-axis mill)
So, I thought about it for a bit, and then chucked the finished 3D print into my Nomad's vise. Set a cylindrical machining area with an outer radius between the ID and OD of this "can", max depth slightly above the bottom of the stock, selected "Machine Geometry Only" and un-checked "Machine top of stock," and let 'er rip with my 0.25" flat mill and aggressive feed/speed settings. I zero'd to the center of the geometry, and touched off the X and Y points of the print in the vise to get the cut centered.
And wow. Now I understand why hybrid 3DP/CNC machines are a thing, and gaining in popularity. Even with the setup time, it was probably faster, and definitely easier, to clean out all that support material with the Nomad than doing it by hand. And certainly produced a higher quality finish, which was important because this part had to "sleeve" over another cylindrical part.
Now, removing all that support material was essentially a roughing-only job (although I did include the Fine passes just for the sake of dimensional and surface finish). But if I'd had the time, I could have also set up a Fine-only cut to clean up the exterior of the print, as well (it was a bit stringy, due to the multi-part print job). So as long as you can find a way to properly zero the Nomad to a 3DP'd part, there's no apparent reason you can't simply load the same STL and go to town.
I know there are industrial processes that do exactly this, but before this, I hadn't really thought about doing it myself before. I suppose it's a combination of limited utility – things I couldn't make on the Nomad directly, but could still fit into the Nomad after leaving my 3DP, and needed a CNC-level polish. But when I need parts to fit together well, and have issues getting my 3DP sufficiently fine-tuned, I can see this combo potentially being quit useful.