At the end of February, I had just gotten my Shapoko XL set up and was dithering about what to do as far as a wasteboard when my 92-year-old mother fell ill. As I am her sole caregiver, I have been out of the shop and the Shapoko completely for the past few months. Thankfully, she is on the mend (minus her left leg) and I am able to sneak some in some shop time. My first project is to turn some pens with stylus nibs on the back to give to the home health care nurse and the physical therapist who are working with my mother to get her back on her feet (er…foot). I used the Shapoko to carve some presentation boxes for the pens to personalize them a bit. These two are the result.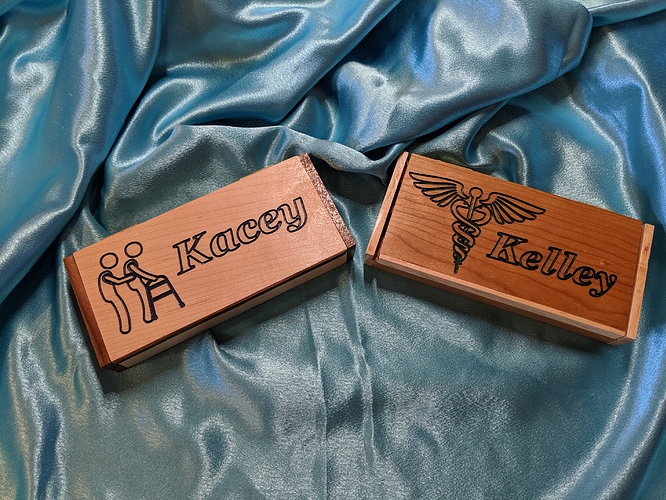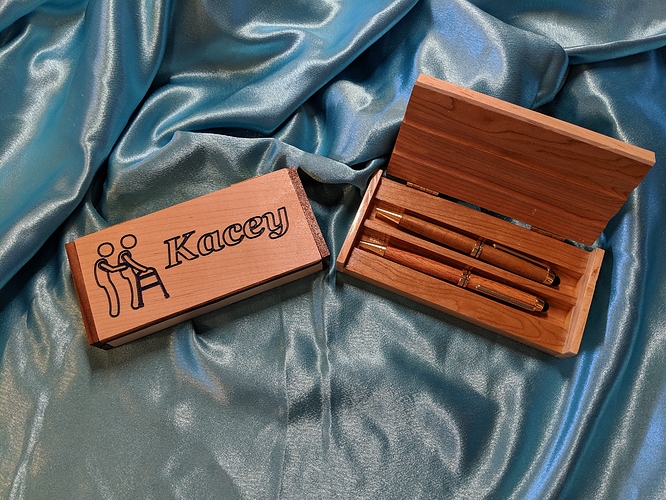 One is maple and walnut and the other is cherry and maple. I haven't decided on the wood to use on the pens quite yet. The two shown are a couple of my trials made out of teak and tigerwood.
For my first real project on the Shapoko, I'm quite happy with the way that the carving turned out. I carved the design, hit it with a sealer coat of shelac then painted the design and sanded off the overflow on the surface. I won't tell you the number of times I had to re-carve the tops due to stupid errors (forgetting to set the cut depth to something other than the stock bottom, forgetting to tell the software that it was using a 1/16" endmill etc. dumb stuff.).
All in all, it was both a learning experience and one that resulted in a useful product. I can't complain about that.