My first project was a 3D carve with a double sided cut; ambitious for a first cut on my very first CNC, but its the type of project I wanted to build. It also taught a lot about working around the limits of hobby 3-axis machines and the need for processes & tools to ensure accurate 2-sided machining.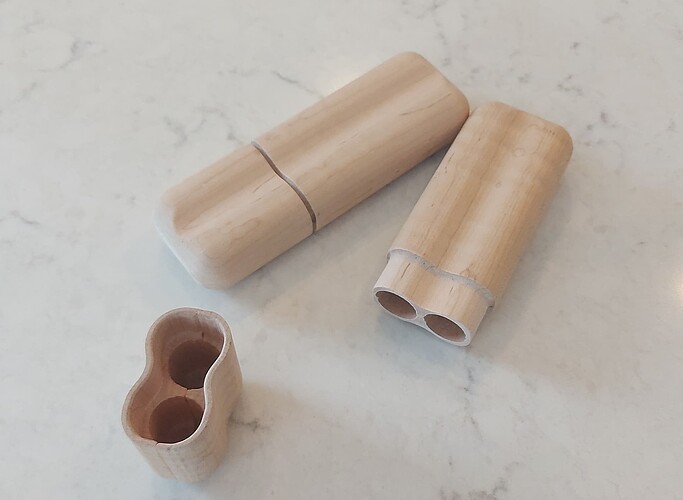 There are several defects which at that time I didn't know how to fix in VCarve Pro. For example,
the cap doesn't seal with the body because I used a raster operation with a ball end mill to machine the shape. That left a fillet inside the cap lip (good) and on the lip on the body (bad).
The two halves don't align perfectly; which you can see inside the cap.
The raster operation was less than ideal, which meant the surface finish had ridges (too large stepover). Now I would just use Fusion 360 and any one of their 3D ops such as spiral.
Today, I'd get much better alignment thanks to
bitzero
a custom dowel-zeroing jig to allow bitzero to zero on dowels instead of the edge of the stock
accurate metal dowels (called Headless Shoulder Screws/Locating Pins) from McMaster Carr instead of wooden dowels from Homedepot. (link below)