So I am running CNCjs, but have run UGS as well. Once on UGS, and now a few times on CNCjs, when my origin is not at at start point, it has to rapid transit to the first cut. It will drop 16mm (or similar depth) rapid, then begin operations at normal top height.
Not an issue with zero'ing at top height, and my retracts in Fusion360 are all around 2mm for clearance.
If I reload the Gcode, it's fine. Kinda random. With plastics I can stop machine before endmill destruction. The CNCjs display actually shows -16mm on Z as it does this (I saw it once, other times I was not able to look at monitor). Then it goes to Z=0 and begins proper plunge.
Ideas as to what is happening?
Update: I now manually set "Z8" in the place where you must delete the tool selection, and it goes to 8mm. Basically Fusion360 is not defining the first Z, so I feel that led to random instability. Why does fusion360 not make the first order some retract height, etc?!?
Photo:
Origin is corner point of item, it transits fast thru PVC and then tries to start 'proper' pocket drilling at first hole. Today had a similar fail on the other axis too.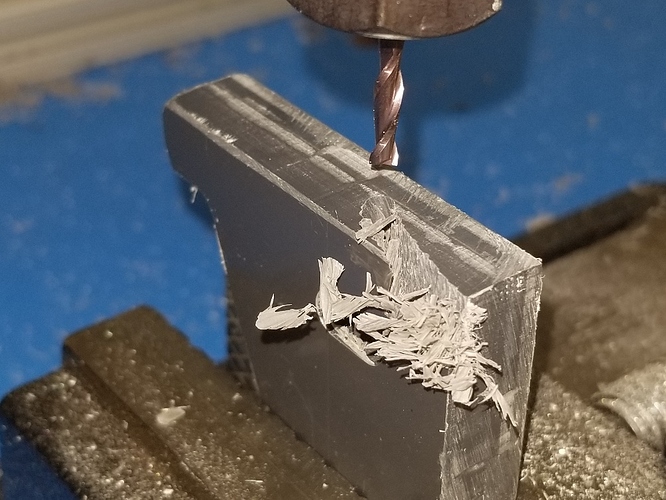 Code below:
%
(1001)
(T2 D=5.156 CR=0 - ZMIN=-10.451 - flat end mill)
G90
G17
G21
G28 G91 Z0
G90
(Drill1)
M9
T2 M6 ( <-- I always have to delete this tool selector line for grbl, no prob) (Update now Z8 goes here)
S20000 M3
G54
G0 X0 Y9.245
Z6
Z3
Z2
G1 Z-1.289 F100
G0 Z3
Z0.711
G1 Z-2.578 F100
G0 Z3
Z-0.578
G1 Z-3.867 F100
G0 Z3
Z-1.867
G1 Z-5.156 F100
G0 Z3
Z-3.156
G1 Z-6.445 F100
G0 Z3
Z-4.445
G1 Z-7.734 F100
G0 Z3
Z-5.734
G1 Z-9.023 F100
G0 Z3
Z-7.023
G1 Z-10.312 F100
G0 Z3
Z-8.312
G1 Z-10.451 F100
G0 Z3
Y-20.955
Z2
G1 Z-1.289 F100
G0 Z3
Z0.711
G1 Z-2.578 F100
G0 Z3
Z-0.578
G1 Z-3.867 F100
G0 Z3
Z-1.867
G1 Z-5.156 F100
G0 Z3
Z-3.156
G1 Z-6.445 F100
G0 Z3
Z-4.445
G1 Z-7.734 F100
G0 Z3
Z-5.734
G1 Z-9.023 F100
G0 Z3
Z-7.023
G1 Z-10.16 F100
G0 Z3
Z6
G28 G91 Z0
G90
G28 G91 X0 Y0
G90
M30
%