Has anyone used this set of bits on the Nomad for engraving? Please post your opinion and experience.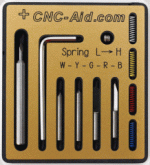 Have not, but looks very interesting.
I have it, but have not used it yet. It is a nice tool with powered engraving feature, not just for drag engraving.
The spring-loaded diamond drag part I get, like a regular one.
What I don't quite understand is that it "accomodates pretty much any 1/8" (3.175mm) shank "Power Engraving Bits" and "Can run from any RPM to 50,000 + RPM"
I must be dense, but when you spin the thing at whatever RPM, with a 1/8" [something] inserted, how does it hold onto the 1/8" shank while still retaining the spring-loaded capability?
Yes should hold on to the shank of the engraving bit, it has sort of a one-way bearing chuck thing, very technical term

.
You have to twist the bit in/out when changing it.
I've engraved on a zippo lighter with this unit. Worked out well under spring load.
If memory serves the bit has an interference fit within the holder providing minimal retention.
This topic was automatically closed after 30 days. New replies are no longer allowed.