Hi all,
First and foremost, if this is the wrong location, please let me know since I'm new here. Additionally, please forgive my lack of proper terminology, as I am new to the CNC and CAD world.
So, the question…
I am a small knife business and purchased my Shapeoko Pro XL to meet the demand for orders and cut handles out of G10.
I have currently designed the handles in Fusion 360 and simulated the cuts. Within the program, everything looks great.
Once I bring the G Code into Motion, everything loads smoothly. Additionally, when I utilize the BitZero, it seems to set properly.
The problem…
Once I begin running the job, the first issue I notice is that the job starts higher than it does within Fusion 360.
Second, when the scallop operation begins, the bit appeared to get stuck in the material which subsequently loosened the bit and moved the material out of place.
I'm not sure if the pass it cutting too deeply on the first pass? (Image attached)
Material: G10 5.5 x 11.5 x 1/4
Bits: Amana Tool 1/4" & Amana Tool 1/4 Ball Nose (For scallop)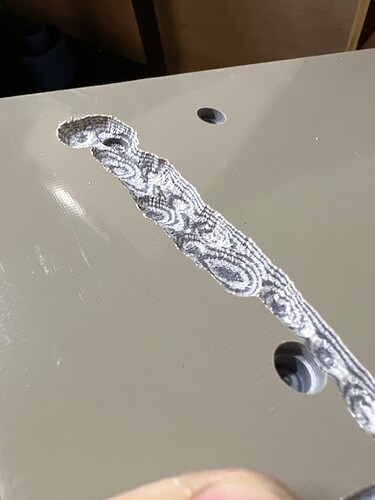 Attached is G Code if that helps.
Sentinel 1.nc (779.5 KB)