I've been using GWizard Calculator more and more over the last week. My trial expired and I didn't really play with it much but was cheap enough that I bought it when the trial ended knowing that I would end up getting my money's worth.
I'm now trying to use it to the fullest but I keep banging my head against my desk. I sent support a couple of emails last week about issues I was having and never heard back. I just sent another one this afternoon but based on last week's no response I don't have much faith.
I use a Mac so I'm using the Mac version. None of my tool geometries are saving. When I click OK they revert back to what they were went I entered. It seriously can't be this hard to tell it stuff about the cutter I'm using can it? I'm hoping you guys have a trick that would prevent this from working for me so that I can get back on track.
I figured that maybe it has something to do with the Mac version so I downloaded the Windows version, installed it, and went to create my first tool. I then clicked the geometry button for the tool and I get this: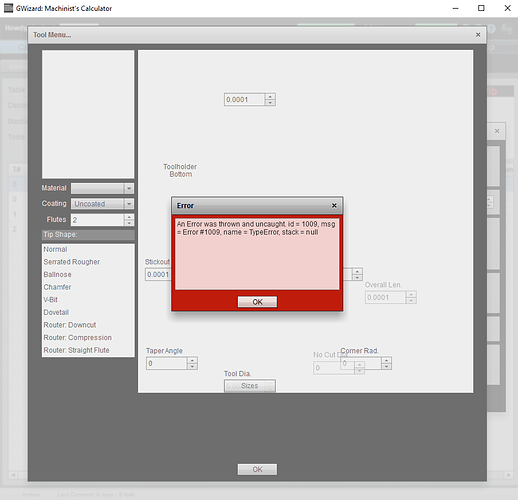 I can't click OK, I can't close it, I'll have to force quit the process. Happens every single time.
I've looked into HSM Advisor but I think it is probably overkill for me. I also can't find some numbers it requests for the Nomad such as torque.
Anyone else having a horrible experience with G-Wizard? Any alternate recommendations? Thanks!