Thanksgiving Sign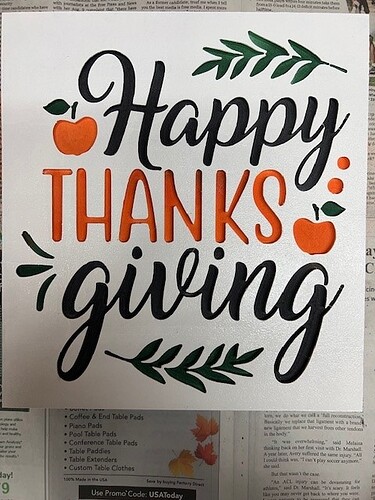 Happy Thanksgiving.c2d (456 KB)
Another good holiday sign… Thanks Loren
Anthony
That looks great. Nice job on the colors/painting? did you oramask it first?
No oremask. Just taped off various areas. Then spray each color. Then top coat white over everything.
Oramask would have probably been helpful but i got lazy
Looks great. I bet all who see it will like it.
Any reason you don't use oramask? Isn't the PVC already white?
It is. But its kind of off white. Even using oramask you still get some bleed through and it needs top coated
I cut a bunch of PVC sheet. For painted signs, I use oramask (813, I think), and I don't have issues.
You really have to make sure it is in place, without trapped air, and it should do a good job masking.
This topic was automatically closed 30 days after the last reply. New replies are no longer allowed.