I did a diamond circle square test on my HDM today and found that it isn't cutting well at all.
The measurements for the 2x2in the square were around 1.85 and 2.20 inches and the circle had a groove cut into it. I did the cut in MDF on HDM softwood settings in Carbide Create, which I know isn't idea for an accuracy test but I feel like it shouldn't be this off.
The table that my HDM rests on isn't perfectly flat, I tried to offset that by placing my HDM on a 3/4 MDF board with foam underneath to level it out. It dosen't get it perfectly level but I plan to shim the frame of the machine. The table also shakes a little as the HDM cuts which might be part of the issue, but considering how rigid the HDM is I don't think it would be causing this much of an innaccuracy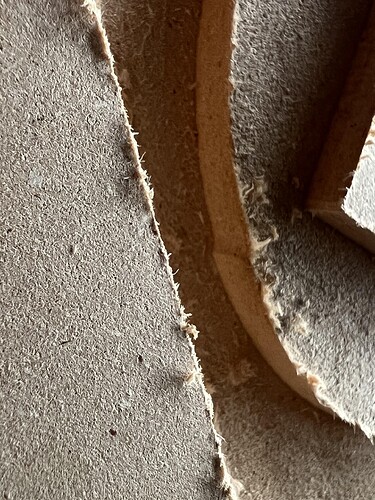 There was another post similar to the problem I'm having, but the fix was to tighten the belts, which i don't have. I checked all the bolts I could see and they were all tight. I've mainly been doing rectangular wood cutting where accuracy wasn't too much of an issue, and considering that the machine was trammed out of the factory I didn't worry too much about it. But now that I'm planning to start cutting aluminum, I ran a test to be sure.