I'm on Shapeoko pro XL, using #278Z .25" Single Flute ZrN and feeds and speeds recomendations from Aluminum Feeds and Speeds for the Shapeoko - #MaterialMonday - YouTube that are for #201Z .25"
18k RPM, 48inch/1220 mm per sec, 0.015''/0.381 DOC
My machine hates doing the final contouring operation. It can sound very unhappy, has these unclean cut issues and can block entirely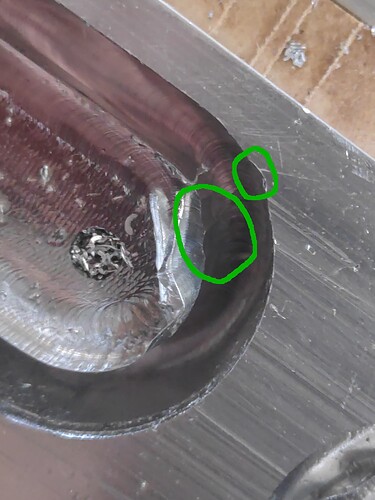 EDIT
Ok writing this now makes my error obvious, I'm using single flute cutter with 3 flute feeds and speeds, I see other video Machining Aluminum with the 278-Z on the Shapeoko - #MaterialMonday - YouTube recommends 25% slower feed rate. I guess this is my mistake?
Another question is about repeatability. I have 3 tool changes for this part,
.25'' for adaptive, then .125'' for marking of the holes to drill, then back to 25'' for contour.
The issue is that no matter if I home the machine or not between tool changes, I'm having these small fraction of mm differences in what each tool is doing… how do you ensure you are always zeroed correctly?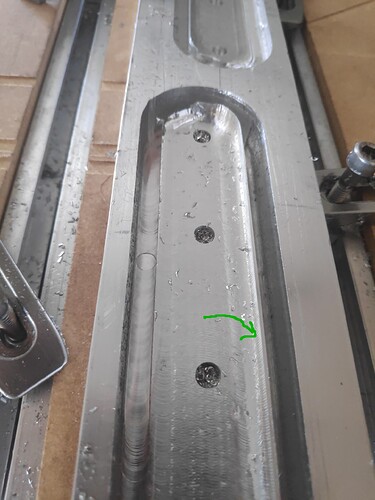 last question is about ramping speeds… I'm doing a helix ramp into these hole markers with #274Z .125" and I'm doing this mega slowly for safety 10000RPM (11inch/300mm /min) with 2 degrees angle, and would like to kick it up a bit, even though it doesn't sound like the machine is too happy about this ramping already… Is there a rule of thumb on how to calculate ramping feeds and angles?
tnx!