I'm working on milling 6061 2"x0.5" bar stock (cut to just over 4" long) and am having trouble fixturing. Specifically, I need to surface the top (the 4x2 face) and trim the ends so they're exactly 4", then mill some pockets and throughholes into the faced side.
I'm currently using the vice that I bought with my nomad, but it's jaws are 0.7" tall. I bought some parallels, but the shortest are 0.5" leaving only 0.2" of bite on my work piece. When I tried the parallels the long ends had to stick out of the vice so that I could shorted the bar to 4". They also dangled out so when the machine plunged it actually hinged the work piece out of the vice, which if I wasn't watching would have lead to a catastrophic failure. For clarity sake, here's a photo of how I'm unsuccessfully holding my work piece right now.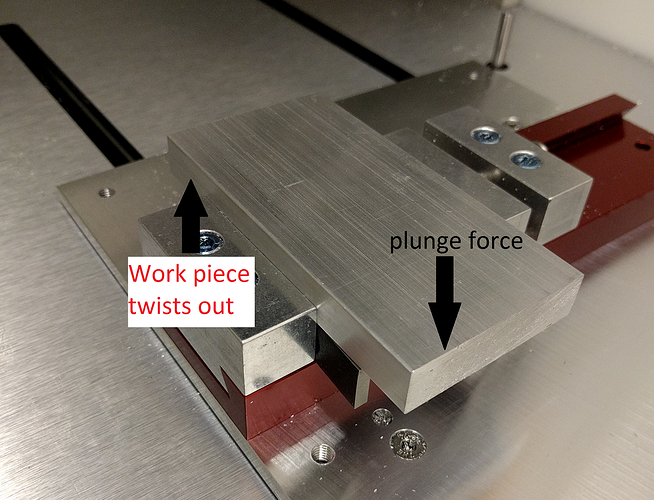 I've also tried the wasteboard + tape, but it seems to warm up slightly and come loose.
Does anyone have advice on a better way to hold my part? I haven't been able to find smaller parallels. Also the parallels I do have tend to vibrate out of place once the machine is running. Obviously rotating the part 90deg would keep it from levering out, but then I can't cut the ends down.
In case it's relevant I'm running a 1/8" 45degree two flute ZRN end mill. 10krpm, 20ipm, 0.02" DOC 3ipm plunge.