Very nice rook. What were your cutting parameters, tool-feeds and speeds…?
To see (call) and raise you need to first match the original bet (Knight)

Challenge accepted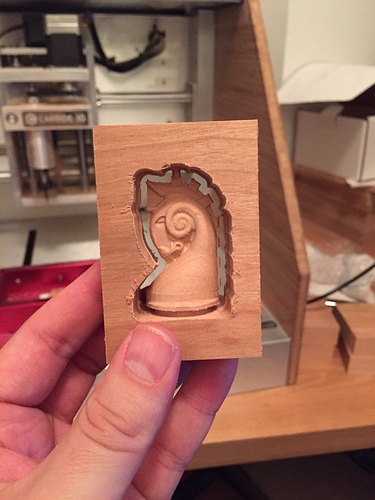 And feeds / speeds for the minion rook were 40ipm / 10ipm for the rough, and 50ipm / 20ipm for the finish pass.
Challenge accepted!
What material is that?
It has a great "tiki" look
Cherry hardwood

I have a bunch of 8" x 8" x 1" cherry blanks that I cut 3 x 2 x 1 blocks out of. So I'm locked and loaded and ready to respond to your next flip-jig creation.
Your move Apollo

Great job on the rook, the finish quality is beautiful…
What cutter and settings are you using?