I recently purchased a used XL and it came with one of those tables in white. I love it. The drawers hold all the accessories and since the top is adjustable it has been a very good work table for the XL. The top on mine is 24 x 48 and the XL is 24 X 45 so that gave me enough room to put a dust collection boom on the side. I would not have bought the table without getting it in t he deal but earlier this week I bought 6 2X12x8 treated lumber and it was $212.00. The lumber is for some outdoor furniture for my grandson. So building a wooden table would compete with the turnkey table like you bought.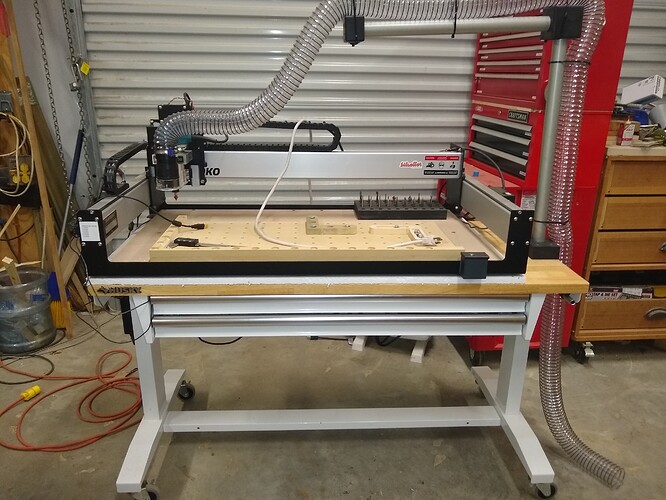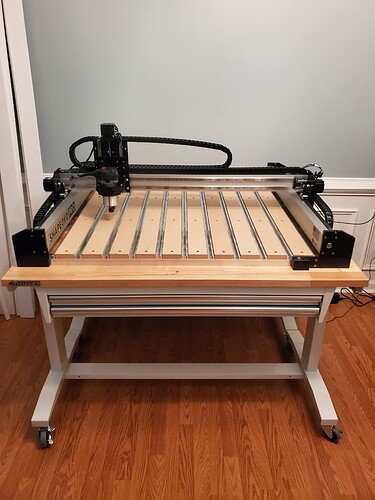 Bought two of the white version with drawers. Put them back to back but the legs end up keeping you from being able to push the tops flush. Take a while to level the two tips but seems like a good temporary solution for me until a more permanent enclosure can be made. Not bad desks for $230, height adjustable with drawers. Nice upgrade would be getting beefier casters.
Hi, I am looking for the benchtop table router for my new project. I am no familiar with them does anyone here who will help me out to choose the best router table from these three models Goplus Electric Router Table, Bosch Benchtop RA1181, and SKIL RAS900 Router Table. Please recommend me the best from these. Thanks
I have and would recommend the Bosch RA1181. Full cast aluminum top was the main the selling point for me. Don't have to worry about breaching the MDF surface and having it swell or such. Can stone to true up if worried about surface flatness (my Bosch cast aluminum table saw surface was far from being flat). The up down mechanism works fine too.
To be honest I have had a few of those, The Bosch and the SKIL and to be honest they both worked great except when it came to bit changes,
So tedious if your actually using alot and changing bits. I would recommend making your own "table" and getting a router lift and adding or purchase table top and add.
They have many option available here.
https://www.rockler.com/power-tools/routers/router-tables/router-table-components
I used this to add to the table I already had
I second this. Buy a router lift and make a table. Bonus, having a CNC you can easily pocket the top for insert, or make appropriate template.
I buy the Jessem lifts. They have worked well for me, and can be purchased at great prices occasionally. I built a little router box/top that I can carry around, and a big table with a handful of lifts. Saves changing cutters.
So the choice of a router table depends on what you intent to route. If you just want to make simple edges or use it occasionally then even a cheap table works. If you intend to do more like dovetails and more complicated joinery then a larger table with a more versatile fence with a router lift is better. I have a custom built router table with a Jessum FX life and a PC 890 router. With that router table I have an Incra positioner with the wonder fence. You can make so much with the Incra but it is more of an investment. I like the Incra lifts because they have magnetic covers of different sizes that is what I would likely replace my with should I ever replace it.
So get your crustal ball out see what the future holds. The big box store Bosch, Skill and other router tables are great for occasional routing and they can stored away when not in use. Plunge routers with an above table adjustment are adequate for most simple jobs. A regular router without a plunge base is a pain to adjust accurately on any router table. Porter Cable is no longer making routers but I have seen good prices for the Skill combo sets as well as the Bosch and Dewalt routers with the combo plunge and fixed bases. As with an tool the better the tool the better the tool the better the result but a poor boy set up can product great results on a budget.
I have had Bosch, Porter Cable, Dewalt and Frued routers and all work well but stick with well known brands because things get lost or wear out and some no name Chinese generic brand has no parts available.