Hi is there actually a video tutorial on homing please he written tutorial is confusing.
Thanks.
A video on actually how to home the machine given a clear example would be good, some of us learn visually especially when we are dyslexic reading can be very confusing.
We do have a troubleshooting video:
I think you might be thinking about how to set the zero point to start a job? Homing is literally a button that returns the carriage to the corner.
I think that's right.
It's to stop the carriage going all the way over to the back right hand corner and hitting the hit switch then stopping the job.
Just want to add this is a software issue not a machine issue as I've managed to use someone else's file to make the machine work.
If you'll let us know step-by-step:
what you did
what you expected
what actually happened
we'll do our best to work through this with you.
Or, you could post a video here or send it in to support@carbide3d.com
Setting your work zero is a necessary step.
Take a look at this video.

Homing should be shown in this video:
Thanks I'm getting further along now but have a slight problem that's confusing me.
Despite my svg file being central in my settings in carbide create, the nomad has cut it in the top right of the stock.
What could I be doing wrong please?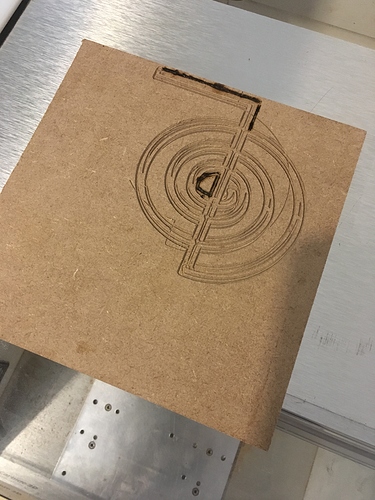 You have to match where you set the origin in your file and where you set the origin on the machine.
The center rapid position point on a Nomad should be pretty close to center — use that?
This topic was automatically closed 30 days after the last reply. New replies are no longer allowed.