So I spent a couple hours tramming my spindle after installing my new machine table. On the Z-Plus, the left to right tilt is not easy to tram but doable.
Suggestion to the Carbide 3D team:
Please adjust this plate and move this screw. You cannot tighten it when the spindle is in the mount which means when trying to tram it, you constantly have to take the spindle in and out. This is not a great experience.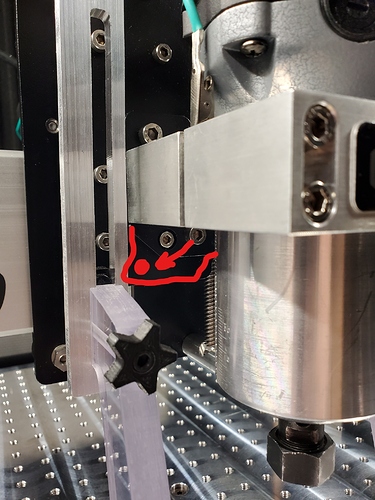 However, nod is incredibly difficult. I am looking to get the whole Z axis to be perpendicular, not just the router mount. I could just put tin foil under the mount but that doesn't truly square the Z axis since it would move forward or back when changing height. This matters to me because I bore many small holes in aluminum often and I have found that it is really easy to break tools if the tool is being pressed into the side of the bore as it is cutting. Has anyone figured out a good solution for tramming spindle nod? I currently am using varying size washers and foil between the top V wheel and the Z plate. I have also tried loosening the screws on either end of the carriage and tilting the whole X rail but found that to be unreliable.