Using Carbide Create and a Soft Jaw fixture these Metal Dominoes cost about $ 35 in materials and a few hours.
**These Make an Awesome Gift! **
Design Files are easily modified, you can use the Carbide Create files below as reference.
I Purchased the 6061 AL bar (.25" x 1.25"x 6') and 1/8th and 3/16th brass balls from Mcmaster.
Undersize the holes for the Brass Balls .001'-.002" for a press fit. (Hole depth is greater than 1/2 the diameter)
Heres Some Quick Tips:
Engraving to a depth of .010" or greater will allow you to additionally use a buffing wheel on the Dominoes without removing the Paint Marker.
(Wet Sand first, then Paint marker, then Wet sand again, then Buff with a 3m wheel)
I had 3 Carbide Create files open at once, with Center Zero locations.
This way I could run my production out of one machine and setup.
Operation 1 is the (pocket) surfacing with the .125" endmill. (#102) 1/8"
Operation 2 is the Art Engraving, with the .032" endmill (#122) 1/32"
Operation 3 Flip the domino over and run the Numeral Dot value. with the .0625" (#112) 1/.16"
2 up fixture DOMINOES.c2d (11.9 KB)
Domino DOTS.c2d (57.8 KB)
Surfacing OPeration.c2d (723.4 KB)
Domino ART Pattern.c2d (1.4 MB)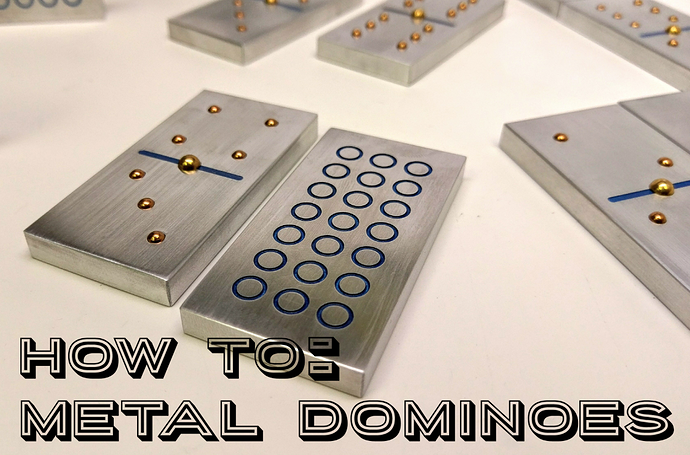 Have Fun!
Questions? Let me know below.