Hello Forum,
I've had these small 3"X12"x1/4" pieces of hobby wood I picked up on EBay several months ago in like a 30 pack of maple, walnut and cherry. I thought I'd have a lot of uses for them, but they've sat on my stock shelf mostly unused for months. A few months ago I did a big 19"x19" tree of life for my wife to hang on the wall out of super thin plywood and an 1/8" downcut router bit. My mother in law really liked the big tree of life, but honestly I don't think she'd want one for her own home, kinda not her style. However, with Christmas approaching (I know we're barely past Halloween) I thought maybe it was time to give these tiny strips of wood a shot, and I just picked up some 60 degree 1/4" V bits…and the results: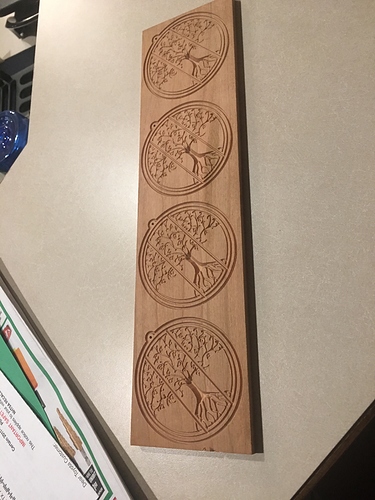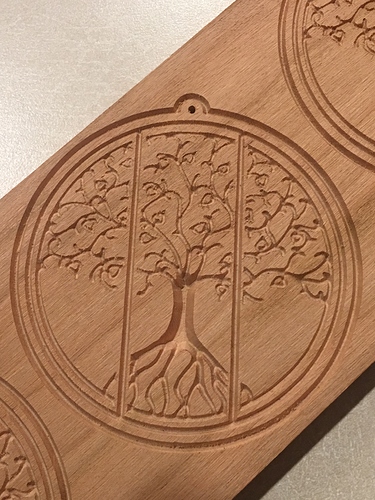 I still have to cut them loose, I'll do that on the band saw. The artwork is not my own, I found it somewhere on the web months ago and changed it up a bit, so I don't feel it's right for me to publish the VCarve files, but I will give my set up so someone could make their own with whatever graphics they have:
VCarve Desktop
1/4" 60 degree 2 flute V bit from Ebay (60 degree included angle)
Start depth 0
Flat depth 0.125"
0.125 pass depth
spindle speed 20933 (not sure what that is on the dial of a Dewalt or Makita, but close should be good enough).
Feed rate 35ipm
Plunge 18ipm
Final pass stepover 0.01"
Clearance pass step over 0.06
Wood cherry
The hangy hole I drilled with a 1.5mm drill bit by hand
Took about 40 minutes I think to run all 4
I think mother in law will be pleased, and if she hates them she can hide them on the back side of her tree, or in the closet, haha!!!
Dan