I am working on a puzzle box for my Wood Working Club meeting Saturday. I found this and thought it was intriguing. The puzzle consists of 9 separate pieces per box. The box is about 6 inches round but you can make a hex, a gear, a heart and a round box from the same parts.
The 9 parts to each box are 6 of one thickness and 3 of a thicker material. So cutting on the Shapeoko was easy. For the gluing of the parts a cut a gluing jig to make sure everything is lined up. The only drawback is the jig will be slow to glue up each piece.
Here is a picture of the puzzle boxes.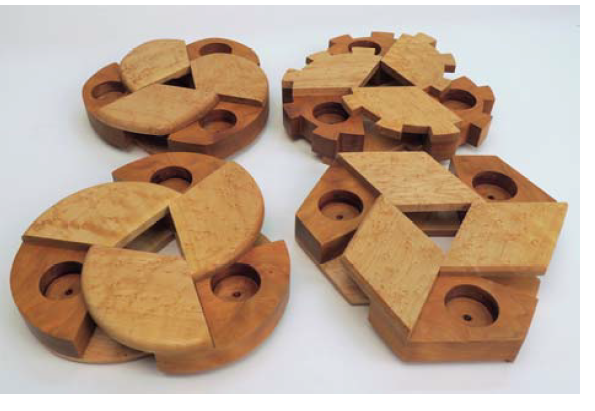 Here are my parts cut out.
Here is my gluing jig and a pic with the pieces being glued.
The blue tape is to help me pull the part out of the jig.
If you look at just the jig you see a little boo boo. I originally made the cutout from the same drawing that I used to cut the puzzle parts. After a little bit of depth I paused and realized the cutout would be too tight. I stopped the job and went into CC and made a tiny offset. I had originally picked both objects and centered them on stock. On the redraw I had to move each part away from each other to get the offset and I forgot and lined up to the origin and not the center of the stock. I started cutting and stopped again and went back to CC and fixed my mistake. Luckily no harm no foul.
I will definitely post when it is completed.