I have been using V6 for some time and have had no problems apart from inlay accuracy. I decided to give V7 a go, with its "Inlay Mode" and "Bottom gap".
I designed a simple 50mm circle and used Advanced VCarve using a 1/8" mill and a 60o V Bit.
I first designed it in V6 and cut it and it worked as expected.
I then designed it in V7, saved the file, downloaded the GCode and ran it - that's when a major problem showed up.
I had set the Z axis height to 8mm from the job (3mm probe plate and 5mm lift) as I had for the V6 version but when I ran the program, it tried to bury the Z axis through the machine waste board breaking the 1/8" bit - it had not switched the router on yet.
I raised the router up high and zeroed it then ran the program again. The Z axis moved down 48mm!! then ran the program.
I checked the GCode and this is the offending line (in bold) that V7 wrote into the GCode (doesnt do it in V6):
G90
G21
(Move to safe Z to avoid workholding)
G53G0Z-5.000
It is changing coordinate source by using G53, to change to machine coordinates which is then trying to put the Z axis 5mm below its zero.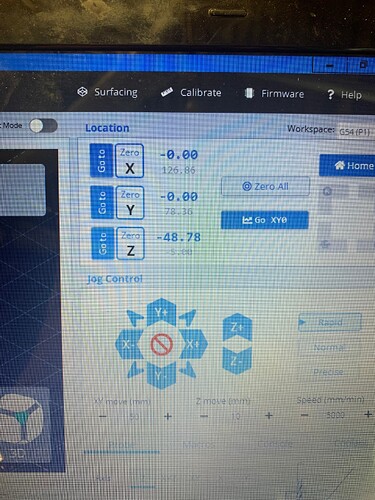 Why doesn't it just leave it at G54 or do I have to edit the GCode every time I generate a file??