G'day folks,
I am having some difficulty in successfully importing geometry into CC V462.
My Problem:
Importing my geometry with DXF removes curve segments and approximates them with poor-resolution line segments, but pocket hole geometry is fine.


Importing the same geometry with SVG imports curve segments correctly, but alters the geometry of my pocket holes.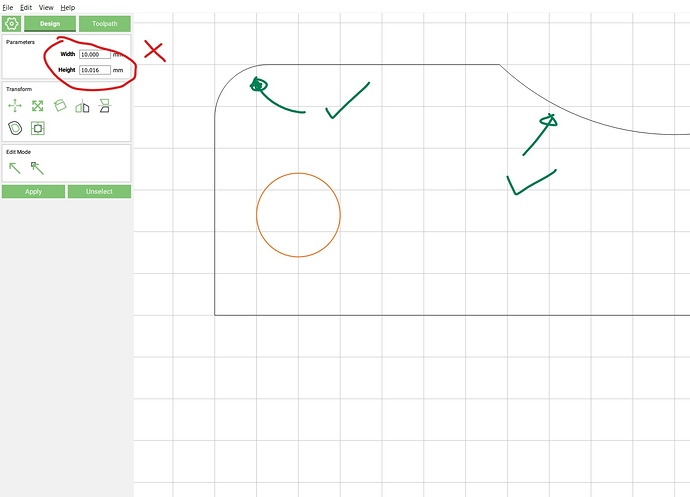 My files:
This google drive folder has my DXF and SVG files in it.
I did the design work for this in Fusion360. I'm not yet comfortable using Fusion for CAM, so I'm exporting for CC. After the headache that was getting usable 2D drawings from Fusion, I ended up with a DXF. I opened this up in AutoCAD, confirmed all the dimensions - looks good.
My attempts so far:
Unlike many of the existing topics, all the geometry is imported and CC doesn't throw any errors. Its just that the geometry doesn't import correctly.
Importing the DXF produces the error I described above. Everything imports correctly except for curves. They are instead approximated with two or three line segments. Circles come in fine.
I did my due diligence, reading through the posts on here, and found plenty of discussion on converting to SVG for import. So, I converted to SVG, with both Illustrator and Inkscape. After importing, I thought I was out of the woods, but not quite.
Everything imports correctly, except for the circles. Upon inspection in CC, they are no longer circles! Some of them import correctly with diameter 10mm. However, others import as ovals, with widths like 10.010mm, or 10.016mm. Height seems to stay uniform.
I'm open to any suggestions at this point!
Cheers,
Mike
Edit 1: Spelling
Edit 2: New user restrictions lifted so I added second image