This topic was automatically closed after 24 hours. New replies are no longer allowed.
@robgrz
Can I request keyboard shortcuts for rapid positioning the next CM update?
Yes. There are so many extra clicks in CM, or at least make rapid positions not be a sub menu of the jog. Often I want to rapid to last xy but then quickly adjust xyz.
Can I add my voice to mode-free keyboard shortcuts in the UI too? For example, Pause and Resume, or initiate Homing cycle. Also increment up/down key shortcuts for the jog units rather than choose from .025, .25 etc (incr/decr is simpler in pendant terms).
Like a few others, I too am Pendant making. Nice find in the Atmel 32u4 chip (Leonardo etc) for this. Rotary encoder via simple interrupts works nicely, salient buttons for choosing X/Y/Z with LED confirmation and then incr/decr buttons on jog units.
I saw a commentary on having to 'enable' the jog dial for safety reasons, if not used for say 1min, or only 'whilst holding another button'. What are peoples views on this?
I'd like to have the 9 "Rapid Position" buttons mapped, too.
Is there a home shortcut?
No, unfortunately, there isn't a shortcut for home.
Build 727 adds a number of shortcuts: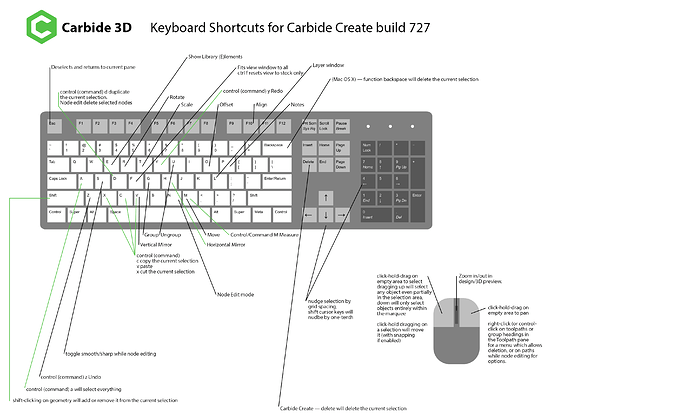 Carbide3D_create_motion_keyboard_shortcuts_CM5_CC6_CC7.pdf (552.4 KB)
This topic was automatically closed after 2 days. New replies are no longer allowed.