So I have a bunch of Walnut laying around and just started machining Aluminum with my Shapeoko. I was looking for a good starter project to combine them. Searching on Thingiverse for inspiration I spotted these lights:
and wanted to know more about how those patterns were made. This lead me down the rabbit hole of Voronoi diagrams. They are really cool and have a bunch of applications. More can be found here:
A few hours later I eventually remembered what I went to Thingiverse for and decided to make my own Voronoi lamp. I wanted something to go on my table though. Here is the beginning of the design I came up with: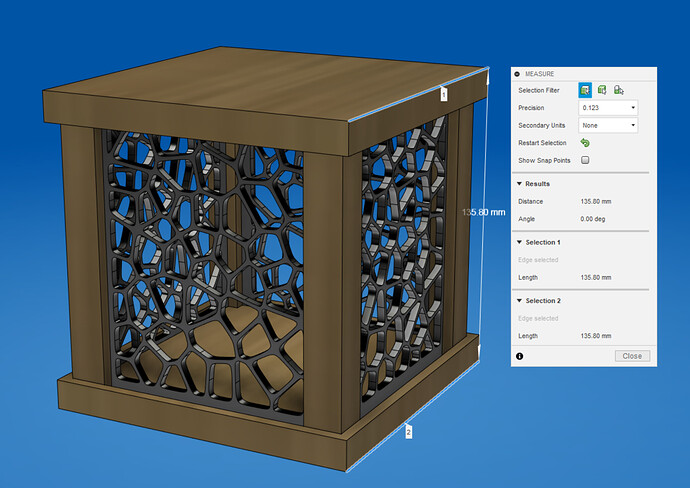 To generate the Voronoi diagrams I used this cool web tool that spits out SVGs when done:
https://voronoi-editor.web.app/
Now for the reason for this post. I am hitting a wall on how I want to light this up. I was originally thinking of gluing paper onto the back of the Aluminum Voronoi grills and putting a LED strip around a wooden dowel on the inside and may still do that. However I kind of want to be able to see the other Voronoi grills when looking at it. I still want the light diffused though. I hate looking directly at a light bulb.
So… Anyone have any cool suggestions on how to add a diffused light to this guy?