This one is pretty helpful for deeper cuts,
https://www.amazon.com/gp/product/B07NWGM4DJ/ref=ppx_yo_dt_b_asin_title_o01_s01?ie=UTF8&psc=1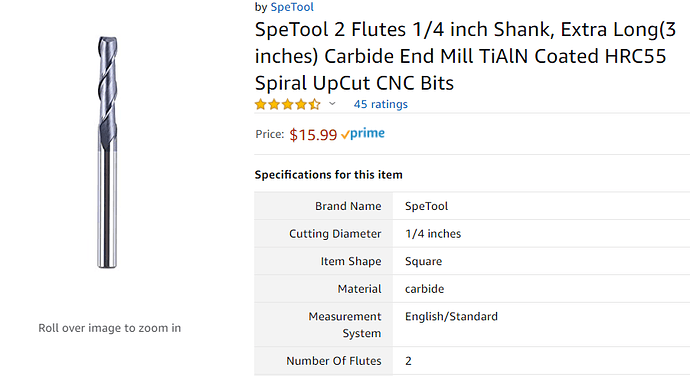 I think I may had seen that one and added it to my Amazon saved for later. That was before I knew anything about a LOC lol. So I'm going to check and see. I'll tell you guys what though, PRIME has been pretty much REGULAR shipping since all this virus stuff so…make sure you're not in a hurry when you shop Amazon.
The one you linked is 3-flute?
As long as you adjust your feeds and speeds according to the number of flutes to maintain the same target chipload, AND watch your chip evacuation, it should be just fine.
Hey thanks. I will have to try it out on some scrap pieces first then so I can see what it's looking like
Ok guys, so tell me this. I've been looking and looking for a longer 1/16th bit and the longest I can find is a 1/16th end mill with a 1/2 cutting height or LOC by Amama. If the majority of my material is .75" - 1" then how am I suppose to get cleaner, more precise through cuts if none of the 16th" bits have the cutting length to make it through?
Flip jig and cut from two sides? (which of course introduces the problem of a seam or offset along the midline)
Change to a larger/longer endmill for the finishing pass and then only have to clean up the tight corners?
Theoretical: Cut an example in scrap — identify the entry/exit points, add a small bumpout at that point, recut (the problem here is Carbide Create may change the entry/exit point when you edit the file — this would work in a program where you could position the entry/exit point, but of course such programs usually also allow ramping or leading in/out which would be a better solution).
Manually edit the G-Code to change the entry/exit?
I'd actually like to learn how to do a two sided cut. I seen a thumb nail on youtube, but got so caught up in whatever video I was watching, that when I cant remember the user or the name of the video. I'm gonna see if I can find a vid on two sided cutting.
This was an AWESOME find sir, thank you very much, I'm about to grab one of these for sure. I may as well look to see if I can find any longer 1/8 inchers too lol
You are welcome. As a word of warning and a reminder, I broke several of them initially because my project had many small cutouts and I assumed I was off on the feeds and speeds, come to find out that the after making the final cut, the small cutout would be pulled up a little bit by the bit and the vacuum and then at some point during moves it would hit one of the raised pieces and break the bit. I increased my retract height and have not broken one since. Currently with the Poplar I am doing .1 depth of cut and 50 as the feed rate, and I think there is room to safely push it harder.
LOL, fine human being? Or the fine detail of my project? I'll assume the former… I'm just really impressed by this forum. I'm new-ish to CNC and have gotten a ton of help just by searching the threads here. Happy to offer my 2 cents worth.
Lol…Wow! My apologies, "that"…I have NO clue how that post came "here" but…uh…Wrong place, wrong person lol
No problem Teddy, it was fun and of course, none of us have ever accidentally posted in the wrong place!
Haaaa. Thanks for understanding with the humor. That was great!
Ok, when I first read it, I guessed you were referring to the precision of the work…
It just got funny a/f now.
Especially in a thread requesting to "go deeper".
Yeah. It's crazy. My wife was out of town round then, and we like to get on Google Talk, Google Chat, whatever it's called and…lol…that was suppose to went to her. Hell, I'm quite sure it "did" go to her, but…I just dont know how in the WORLD I got it to come here, it's like it was copy & pasted or something. Heck! N E Ways, I had to clear that stuff up Real Quick! lol
This topic was automatically closed 30 days after the last reply. New replies are no longer allowed.