I am sure this is addressed elsewhere, but cannot find what I am doing wrong…
Learning to inlay, believe I have a grasp of the basics / depth offsets. However, no matter what I try the plug (male) never fits the pocket (female). Learning with a simple .5'' diameter circle. The strange thing is the the plug is always smaller than the pocket, not too large to fit inside. I have tried so many different variations of tool paths, I will describe the simplest and hope someone can see what I am doing wrong.
Vbit: Armana 46280, 6.2 deg, .25'' shank.
Machine: Shapeoko 3 XL
Pocket
vector: .5 circle.
Path: Advanced Vcarve, Start depth 0''. max depth .2'' Note: center clearing done on separate path, area pocket NOT enabled. Waiting on bitsetter…
Plug
vectors: .5 circle and bounding square.
Path: Advanced Vcarve, Start depth .17, max depth .25 Note: Again, surface clearing out to bounding vector done on seperate path to .25''.
The above results in a pocket of .75'' diameter (surface) and a plug of .645'' diameter at base/surface.
I have also tried running a contour inside path for the pocket. This results in a pocket diameter of .51''.
I realize the above numbers make no sense given that the circle is .5'' diameter. It is as though CC does not understand the geometry of the cutter. Here is a screen shot of the manual tool load info.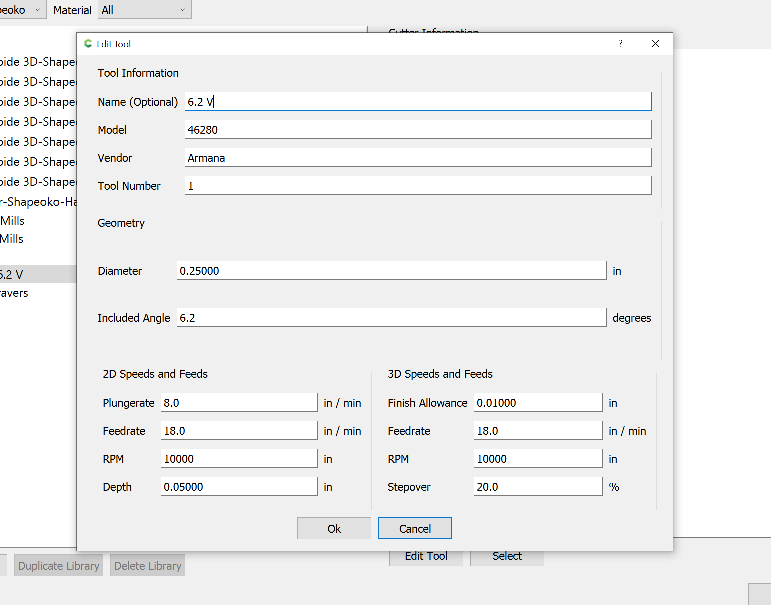 Appreciate any help,
Seth