I got a Nomad 883 and want to use it to drill all the holes in this case:
http://www.frank-buss.de/kerberos/
So there are 3 big holes for the DIN connectors, 2 holes for the LEDs and one notch at the left side for the button. The case has 2 parts, only the top part needs to be machined, should look like this (the notch is at the bottom side in this image) :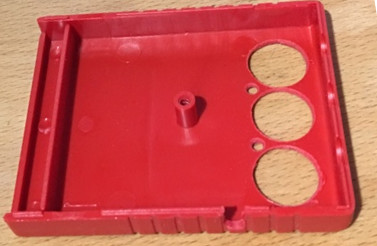 The size of the case is about 88 mm x 67 mm.
This is my first project with the Nomad (besides the first wrench tutorial and some simple tests) and I have no CNC experience. How should I do this?
My idea would be to mill the shape of the half casing in the wasteboard, up to a few mm deep, so that I can place the half perfectly aligned and glued with the double sided tape to the wasteboard. Then creating some shapes with Carbide Create, running Carbide Motion, zeroing it manually to some edge and then starting the milling process. I guess for multiple half cases I need to zero it just once?
If I want to do another project, I would just unscrew the wasteboard and use another one (I already ordered the 4 wasteboard package, and some more ball cutters for smaller features than the standard 1/8", because I plan to mill some full detailed 3D models as well). Maybe I could test it with a cheap wood panel first, which I would mill to the right size, because one of these cases costs EUR 5.
And I need to figure out a way how to measure it exactly as well. I have one of these cheap, but surprisingly accurate, electronic plastic calipers from eBay. Any other recommendations what would be useful to have?