I was having issues with delivery drivers not being able to quickly identify my house number. My neighbors are great at bringing over my miss delivered packages, but I wanted to fix this issue. After receiving my Nomad 3 and making a tool tray, I thought I'd figure out a fix for my house number on the street curb. Now keep in mind you can pay someone $20-40 bucks to paint your curb, but as a font geek, I wanted to use a font I liked AND learn how to use my Nomad 3 some more.
I used Inkscape vector graphics app (Free as in Freedom for Macs, Linux, and Windows) to find a font, then size each number to 2.5" wide and 4" tall, with 1" between each number. I had to search up some tutorials on how to edit the number line art so I could add a support brace to the inner circle of the "9" in my house number. I'd love to pass on the multiple steps involved, but unfortunately too much beer has passed through my brain cells since I did this a few months ago and I just don't remember. But it is absolutely possible in Inkscape to do this for numbers 0, 6, 8, and 9 (and maybe 4 depending on the font used).
Once the numbers looked good in Inkscape, I exported to an SVG file, then imported into Carbide Create. Since the numbers are so large, I could not fit all 4 digits of my house number in the working area of the Nomad. Instead, I milled 2 digits on one board, then the other 2 digits on a second board. I milled on some super cheap 1/4" particle board that I cut into 8"x8" squares. Then I just applied tape between the two boards to prevent paint bleed from the crack.
Here are some photos that should help show what I've been describing: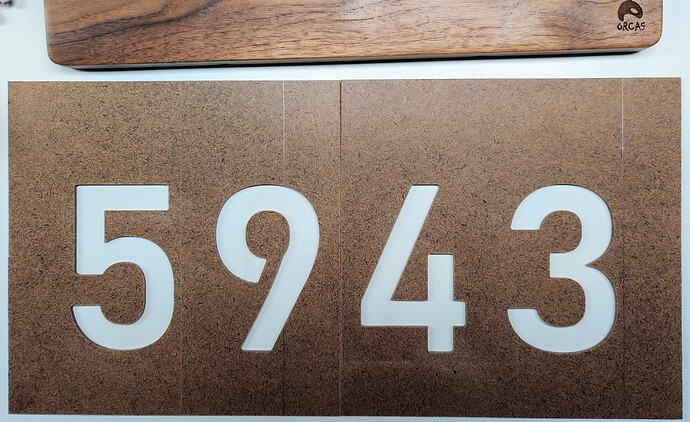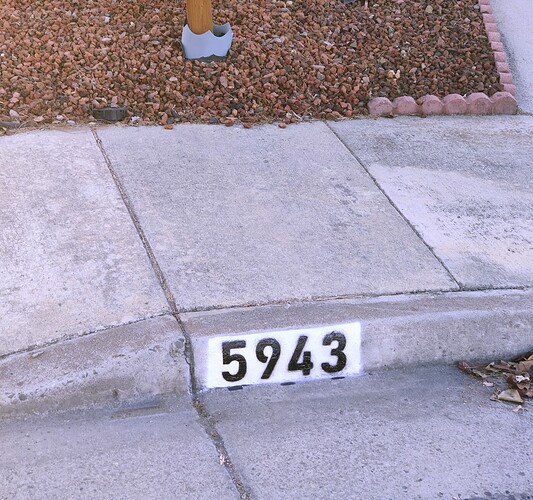 The number templates came out perfectly. I'm just a terrible painter which is why there is some spray bleed of the black paint.
I've made extra templates for my neighbors and friends, so we now have less misdirected deliveries on my street now.