Hi everybody,
I am machining a knife handle on two sides on my Shapeoko 3 XXL.
I have to do a reversal of the handle.
I have modeled the part and the machining part under fusion 360.
I encounter a problem that I can't solve.
When I turn the piece I have a shift that appears on one of the two parts.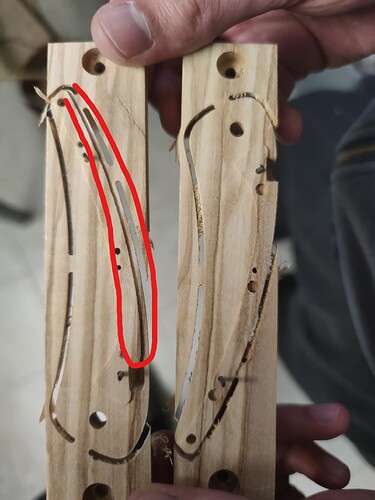 I keep the same origin, I have an imprint in my support plate which makes that when I turn my part it is lodged in it.
Everything is modeled under fusion (support plate, imprint, raw, wood block…)
Do you have any clues ? I admit I'm a little bit lost…
Could it be a problem with the machine? or with the firmware? if we rule out the modeling (which I checked 15 times)? maybe the belts are not tight enough?
Thanks for your help,
Good evening,
Bobi