I have made a custom Minimalist Chess set. I was thinking of using the Shapeoko to v-carve on all four sides of each piece the latter K for King, Q for Queen and so forth. The bands are cut in the back row pieces and will cut the pawns tomorrow. I will use acrylic paint for the oak white and the mahogany black. Since this is a custom set I thought it would help identify the pieces and be a good aid to teach the game. The board is oak and mahogany. I still need to build a stand for the chess board and have two drawers with dividers to hold the pieces.
The board is 2"x2" squares, the King is 1.5"x 3.5" , Queen and all others 1.25" square. The base will be made of mahogany.
I would paint the letters with the white and black paint as well.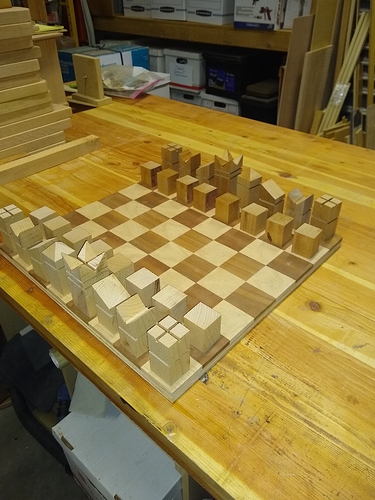 Let me know what you think.