Hey everyone, I'm pretty new to CNC. I have done a couple small projects on my Pro XXL, and am now working on a sort of generic wedding plaque.
The plaque is (3) layers:
Layer (1): "First names" painted white
Layer (2): "Last name" painted champagne
Layer (3): Background, stained wood
How would you go about making this workflow to avoid a bunch of tedious hand painting and staining? In particular staining the wood in between all those tiny gaps in the letters is quite difficult, and ends up causing some of the stain to bleed into the upper layers of text, despite a couple coats of shellac.
How do you go about staining the recessed background on a project like this, and painting the middle layer? Ideally I'd like to be able to just mask and spray, but I don't think that's possible with 3 depths like this, unless I'm not thinking abstractly enough.
The way I've done it up to now is:
1.) Oramask the whole thing.
2.) Carve LAYER (2) to its full depth, leaving the background exposed.
3.) Stain (problematic because it globs up in the small gaps of the letters.
4.) Carve LAYER (1).
This leaves me with the first names still covered in Oramask, "bare" wood on the last name, and a stained background. From here, all I can really do is hand paint the last name, which is also pretty difficult for me to keep it clean w/o getting paint on the sides of the raised first names. I'm not particularly steady-handed, lol.
After that I can peel the oramask, or do a surfacing on the first names, and then paint over the tops of those easy enough with a foam brush. The difficulty I'm having is with the other 2 layers.
Most of what I've watched on masking and painting only involves two layers.
I really like the effect of it being carved from a single piece of wood. However, maybe the easiest option for a stained background is to cut out the letters entirely from another piece and just attach them to a stained background instead?
Here's my design in Aspire.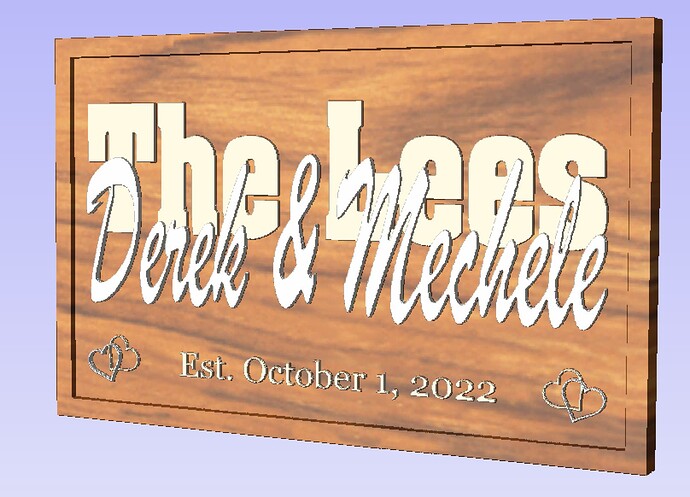 And this is generally the look I'm going for: