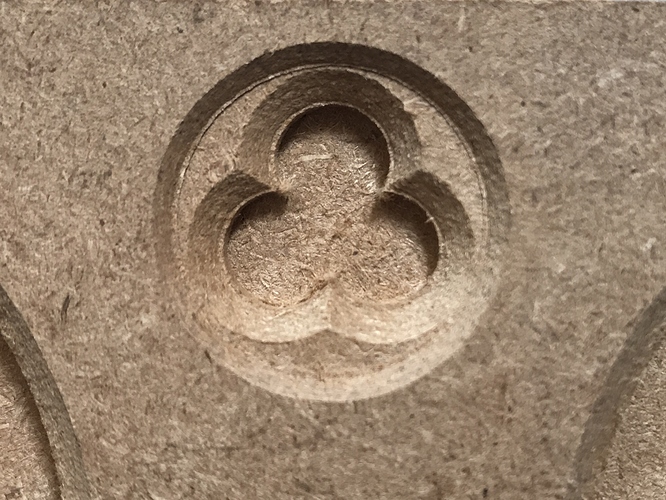 Hi All,
I was wondering if anyone had seen this issue or had any suggestions for fixing it. I'm trying to cut several of these little (1" diameter) trefoil windows for a project. I use a 1/4" spiral bit to clear the waste from the round part first (1/16" depth) then to clear the "window" portion (1/4" depth. Then I use a 90 degree Vbit to make a profile pass on the line for the round part, then the windows. Everything looks good except that little lip at the base of both the V cuts. I've tried 3 different v bits to be sure it's not a flat or broken tip. I'm running it at 30/15 ipm feed/plunge rate, with only 0.03 DOC. (Light passes kept the little points from chipping out in real wood) I'm using V carve Pro with Carbide motion on the Shapeoko XXL.
If anyone can provide some help, it would be appreciated. I'll provide any other settings I may have forgotten if someone thinks it will help. Thanks Folks!
Follow up: I think I may have solved it, at least for this case. Whatever was happening seemed to be happening at the tip so I took the tip out of the equation. I made a copy of the vector I was following that was inset by 1/64 and had it follow that while making depth of cut 1/64 deeper. Basically, I moved it in and down by the same amount so the original vector was presented with the same 45 degree angle, just further up the bit, making it a chamfering bit. The tip was just hanging into space that, in this case, had already been cleared.