This faux icon is carved out of walnut. It's about 8 x 15 x 1.8cm. I built the model in the Moment of Inspiration ("MoI" modeler).
The roughing phase was with the 101 0.125-inch ball cutter, and the parallel finish, waterlining, and pencil were with the 111 0.0625-inch ball cutter. Other than splitting this into two separate jobs (roughing and everything else), this used the default Nomad wizard settings for hard wood.
The roughing took 3.5 hours, and the other steps combined took 2 hours. The default cut rate seemed kind of aggressive from a noise perspective, but the chips looked good and there was no juddering or stalling of the spindle.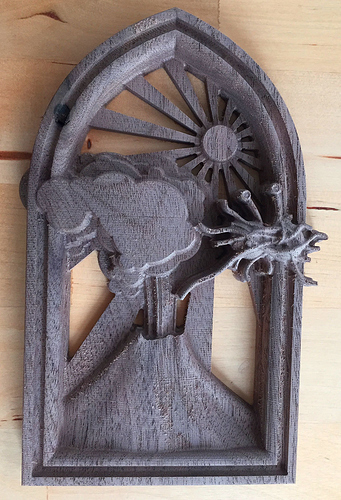 Some things I learned:
I need to slope any vertical walls that are higher than the flute length of the

#111

cutter a bit, so I don't have a stepped edge at that flute length (see detail below).
I should probably build my model with more thought about tight inside corners. Those add a great deal of time to the cutting process, and they're never going to be sharper than the smallest router I use.