Going to start down the road of improving repeatability on my machine. I currently have a fairly large issue (as in, noticeable by eye not needing calipers). I had to restart a job and it was quite evident very quickly the machine was not in the same location. It mostly seemed limited to the Y axis but that's just based on what I could see. I didn't get any pictures while it was happening but this elaborate diagram which I spent many hours on illustrates the issue: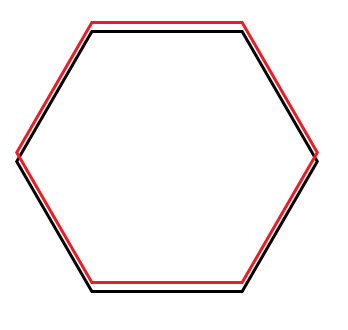 Black line was the original then after restarting you could hear it 'missing' the piece up top and cutting deeper down below.
Now I've checked the set screws and belts and all that, but to be honest I doubt they're the issue. I'm guessing it's limit switch related as once the job begins running it seems okay within that job.
I'm going to slow down the speed at which the machine approaches the limit switches and see if that makes a difference. Unrelated but while I'm doing this I'm going to explore the squareness of the rails, I noticed when one hits the front of the machine the other still has a little room to move, but not sure if the rail is perfectly square to the machine or not. Since I'll be cutting some test squares anyways it's a good time to figure that out. I know other people have taken to filing down their X rail, hoping to avoid that.