I am unclear if this is an issue with my CAM work, Fusion, the Carbide post processor, or Carbide Motion so coming here for guidance as this is not the first time I have encountered.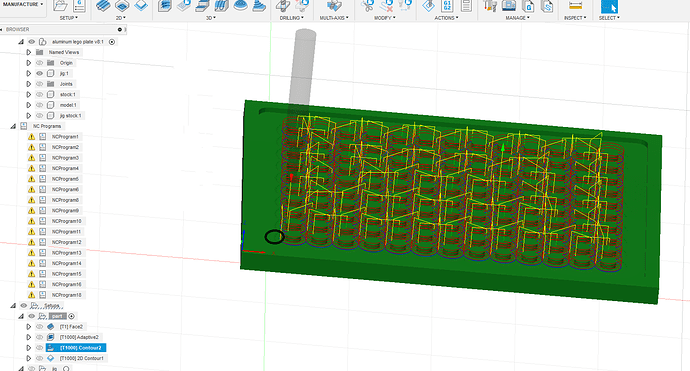 So I am cutting a Lego plate out of piece of aluminum for the sake of getting some more aluminum practice.
toolpath 1: surfacing with the 201 bit to model top
toolpath 2: 3d adaptive (with far more helical entries than I would have liked) to bulk clear as much as possible inside the part boundry.
toolpath 3: a 3d contour for finishing the studs and removing remnants left behind by the adaptive
toolpath 4: a 2d contour to remove the part from the stock.
(1) and (2) finished without a hitch. When starting (3) I realized I had not constrained the bit to being within the part body and the slotting contour of the entire part started. My speeds and feeds were too aggressive for this and I halted the job.
I then modify the setting for (3) such that the tool is constrained to boundary of the part (silhouette, tool inside boundary)…toolpaths and simulation look good.
I go to run the updated (3) instead of moving directly above the bottom left stud the bit moves about 3mm left and starts cutting what would be the contour path around the stud…About where my black circle is.
Any idea what is going on here? Zero point is in the right spot but it just seems to be travelling ~3mm less to the right than it should before starting ramp.