HI!
Hoping someone might be able to help me out. I have found similar threads concerning offset, but I'm ending up with rotation error after flipping a guitar to mill the back side.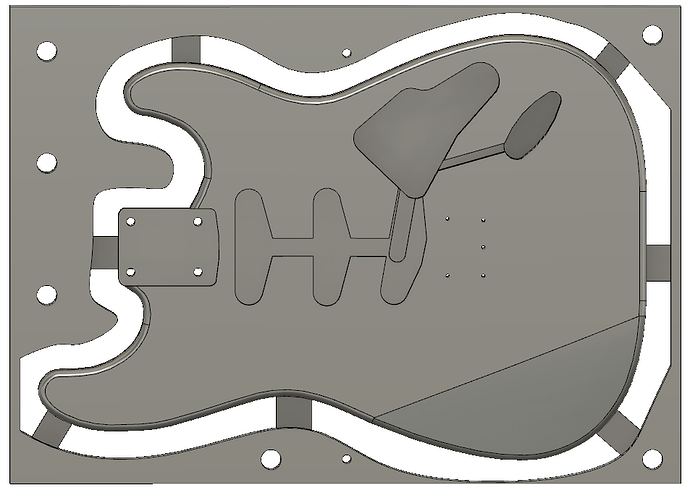 Details: 2-sided milling, using two 1/4" dowel pins on the Y-axis. (The stock flips left-to-right) I've maintained my X&Y zero in flash/EEPROM, only changing the Z-axis throughout the process. Homing and re-homing the machine does not produce a change. I've included six 0.5" reference holes to allow me to catch this error before ruining the guitar. Upon milling the back-side reference holes, I see that they do not meet up with the front side reference holes, and that there is a rotation about X/Y zero, creating approximately 3.5 mm of apparent offset in different directions. Looking at the directions of offset, it is clear that I'm getting a clockwise rotation after flipping the stock.
The reference holes (and guitar body) appear to be fine in Fusion 360. I'm using the latest Carbide3D POST with the arc correction.
This issue has plagued me through 5 guitar prototypes so far. Sometimes it manifests as an offset, but sometimes as a rotational error (much harder to calibrate out). No matter offset and/or rotation, the problem is very repeatable and persists through regenerating tool paths in Fusion.
Any ideas out there?
Thanks,
Harold